The Equalizer (2014)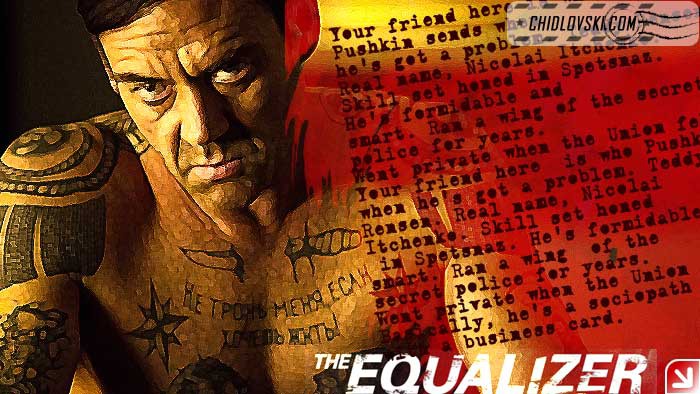 Don't touch me,
if you want to live!
Tattoo on Teddy Rensen's chest
Just a few key impressions on "The Equalizer" (2014) film we watched on the weekend:
Boston is a beautiful town. The footage of the Zakim Bridge and the Tobin Bridge, of East Boston and Chelsea is fascinating to watch.
Especially, if it's your home town!
The script is nothing original. No unexpected twists in the plot. Everything is highly predictable. Solid work by Denzel Washington playing the main part of a retired black op professional with a murky past. Great villain character played by Marton Czokas from New Zealand. Terry Rensen is a Russian mob fixer and mastermind of resolving cases. The tattoos on his body say in Russian "Don't touch me, if you want to live!" on his chest and "Terror", "Death" and "Darkness" on the back. Oh well, with recent twists in Vladimir Putin's mind going dark on European and American countries, it doesn't seem that demand on actors playing Russian villain characters will go down any time soon.
The big fight scene takes place in the hardware store looking pretty much like a Home Depot. Denzel Washington manages to terminate a platoon of bad guys with top notch military gear using just… the hardware products available in the store. Perhaps, Home Depot can expand the list of their customers from plumbers, electricians and construction workers to mobsters and guns for hire types.
Never thought of the Tobin Bridge as a place for a date. 3.5 miles long bridge hardly can be pictured as a place for romantic walk 🙂
With all these said, The Equalizer is a movie to watch for those who likes action films. Looks good. Makes you feel good. Good guy wins in the end.