The Rise and Decline of Russian Players in the NHL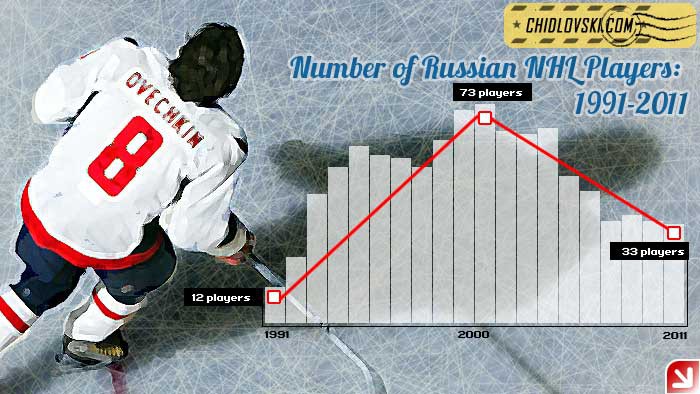 Continuing our discussion of the Does the NHL like the Russians? article, we'd like to present another infographics  developed by Chidlovski Blog Chidlovski regarding the rise and decline of Russian hockey players in the NHL in 20 years between 1991 and 2011.
Just a quick look at the graphs shows that the number of Russian trained players continuously was growing in the 1990s and began rapidly to decline on 2000s.
In terms of place of birth, Russia's representation fell from the 3rd place (behind Canada and USA) to the 5-6th place trailing now behind Czechs and Swedes and being on the same level with in the NHL players' export with Finland.
Any comments? What caused such a drastic change? Is is it because of the quality decline in Russian hockey? Is it caused by launching of the Continental Hockey League (KHL) in Russia as an alternative to the NHL? Is it one of the conspiracies or sanctions by the NATO countries that aggravate the hell out of some of the commentators in today's Russia.
The topic for discussion was suggested by our Soviet Canadian friend Alex Nikandrov. Infographics and thoughts expressed are by Chidlovski Blog Chidlovski.
Originally published in Russian on May 30, 2011