Golden Goal In Bronze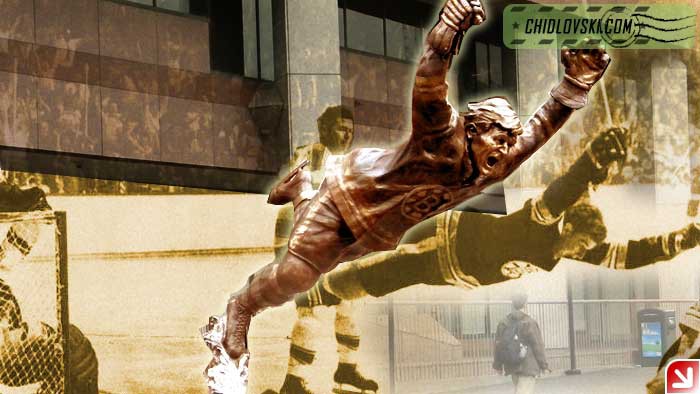 On May 10, 2015, die-hard Bruins fans and historians celebrated the 45th Anniversary of the Golden Goal by Bobby Orr.
The article below was written by Chidlovski Blog Chidlovski 5 years ago.
Original article in Russian
published in May 2010
Yesterday in Boston, there was an opening of the Statue dedicated to one of the most memorable moments in hockey history – the Goal, scored by Bobby Orr on May 10, 1970 in the game against St. Louis Blues that brought Stanley Cup to the Bean Town,
We already wrote about this event on the eve of its 40th anniversary. The picture of the victorious flight by Bobby Orr was seen by the whole world and the photo has its own story. It was made by little known 29-year-old photographer Ray Lussier from the Boston Record American. He made the shot with his Nikon camera when the main photographer left to get some beer.
When the paper was getting ready for publication, the editors were not happy with the photos they had.
"Any other photos?" – they asked the photographers.
"I got one but it was shot from a bad angle," – said Lussier and showed his photo.
At that time, the newspapers published photographs of the goals only when the puck can be seen in the net. Sometimes, to follow the sports photography syandards of the time,  they had to edit the pictures by drawing a little black circle as a puck.
On the Lussier photo, the puck already deflected from the net.
However, as soon as the editor saw the picture, he realized that it was a fantastic shot and it was included right to the upcoming issue of the paper. Afterwards, the photo was published by thousands sports newspapers and magazines all over the world.
The new bronze statue of Bobby Orr in Boston shows the moment of the triumphant flight shown on the famous photograph.
Golden goal in bronze, indeed.