Before Montreal 1976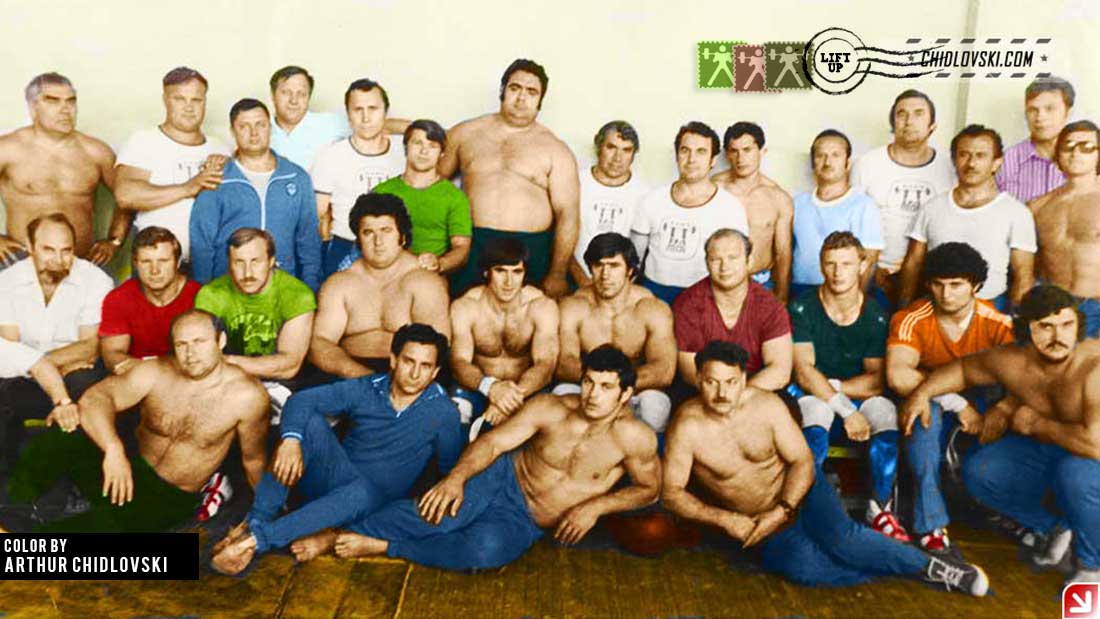 Here is more of digital enhancement of group photos of national Team CCCP from the glorious days of the Soviet Olympic weightlifting.
This time the original photo was taken during the preparation for the 1976 Summer Olympics in Montreal. The national team gathered at the training camp in Podolsk. The team is strong and deep on candidates to compete.
The previous Olympics in Munich in 1972 was a disaster for weightlifters. They were strong as never before but a few best athletes bombed out and didn't qualify in 1972. The Olympic press lift was eliminated from the program and the 1976 Olympics were to be the first to determine the best based only on two dynamic lifts. It changes the outlook for the athletes. Strong and bulky guys are no longer in such demand as new fast and explosive type of lifters.
Top row (left to right):
Pavel Zubrilin (Minsk, coach), Vladimir Nechipurenko (coach), Kailunov (Khabarovsk, coach), Rudolf Plyukfelder ( Shakhty, coach), Yury Sandalov (Secretary of Federation), Nikolay Kolesnikov (Shakhty, 60kg), Vasily Alexeev (Shakhty, 110+kg), Akop Faradzhan (coach), Igor Kudyukov (Moscow, head coach), Sergey Pevzner (Rostov, 67.5kg), team doctor, N/A, Yakov Raskin, N/A,  Gennady Baldin (massage therapist);
Mid row (left to right):
Arkady Vorobyev (coach), Petr Korol (Lvov, 67.5kg),  Valery Shary (Minsk, 82.5kg), Aslanbek Yenaldiev (Ordzhanikidze, 110+kg), Vartan Militosyan (Leninakan, 75kg), David Rigert (Shakhty, 90kg),  Yury Zaitsev (Temirtau, 110kg), Valery Smirnov (Leningrad, 75kg), Adam Saidullaev (Grozny, 90kg), Valery Kuznichenko (Brovary, 110kg);
Front row (left to right):
Gennady Borovikov (coach), Vladimir Shlykov (coach), Sergey Poltoratsky (Kiev, 90kg), Yakov Krinitsky (coach).
For corrections and/or identification of people on the photo please submit comments below.
Below is a snapshot from the history featuring the results of the 1976 USSR Championship.
For those who like to do the exercises on history study, you can identify the names of the athletes who won the gold Olympic medals in a few months after the group shot in Podolsk was taken.
---
1976 Summer Olympics
Location: Montreal, CANGOLD MEDALISTS

| Weight | Class | | Name | Total (kg) |
| --- | --- | --- | --- | --- |
| 52 | Flyweight | | Alexander VORONIN, Soviet Union | 105+137.5OR = 242.5EWR |
| 56 | Bantamweight | | Norair NURIKIAN, Bulgaria | 117.5+145 = 262.5WR |
| 60 | Featherweight | | Nikolay KOLESNIKOV, Soviet Union | 125+160 = 285 |
| 67.5 | Lightweight | | Petr KOROL, Soviet Union | 135EOR+170 = 305OR |
| 75 | Middleweight | | Yordan MITKOV, Bulgaria | 145OR+190OR = 335OR |
| 82.5 | Light Heavyweight | | Valery SHARY, Soviet Union | 162.5OR+202.5OR = 365OR |
| 90 | Middle Heavyweight | | David RIGERT, Soviet Union | 170OR+212.5OR = 382.5OR |
| 110 | Heavyweight | | Yury ZAITSEV, Soviet Union | 165+220OR = 385 |
| 110+ | Super Heavyweight | | Vasily ALEXEEV, Soviet Union | 185OR+255WR = 440 |
Note: To view a complete list of the winners in the weight classes above,
please follow the link associated with the weight class.
Save
Save
Save
Save
Save
Save
Save
Save