What Happens In Russia Stays In Russia. Not Always.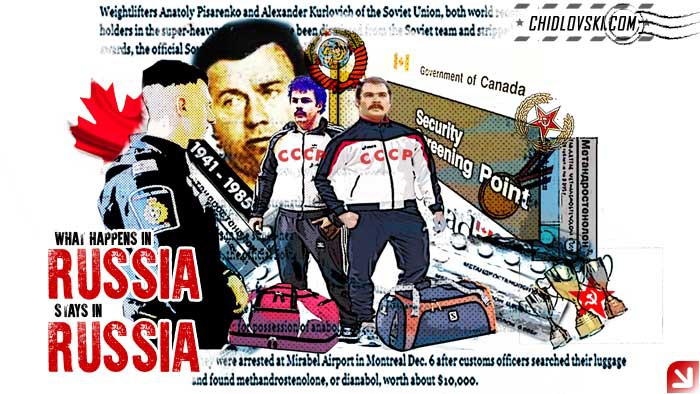 What Happens in Russia Stays in Russia…
All of a sudden everybody became doping experts.
The mystery behind all phenomenal records and titles and championships has been revealed.
It's all about the dope, man! And the usual suspects in this doping violations are Olympic weightlifters and particularly the ones who graduated from the former Soviet Union sports schools – all these fellas from Russia, Belarus, Kazakhstan and Co. The recent McLaren report outlined the detailed state-sponsored doping in Russia.
Everybody are disgusted with this. We all had enough with these Russians. We all feel being cheated since the USSR entered their first Olympics in 1952.
Most vocal fighters with performance enhancing drugs (PEDs) demand to re-test the WADA samples taken in Helsinki'52.
So, what that there was no WADA in 1952!
Strip them off their medals anyway! Shame on cheaters!
Doubts and alternative voices are not being heard. Alternative prospective is immediately being considered as defending bad guys in sports.
The truth is perhaps more complicated and deep than what we mostly hear in the passion of the moment.
Professional sport is a competitive enterprise with big amounts of financial interest in it. It's hard to imagine that a few nations fooled the rest of the pack about how to win the trophies and endorsements.
Was there a state-run program of doping in Russia? In all probability, the answer is yes. But, everything in Russia is being run by the state.
For the most part, all sports disciplines are being supported by government or government assigned wealthy individuals.
This is the way it was in the old Soviet Union. This is the way it is now in new Russia.
What Happens in Russia Stays in Russia…
Olympic weightlifting is not a commercial sport.
Bob Hoffman of York Barbell was called the father of weightlifting in America. He was a millionaire and for decades supported American strength athletes. He is dead now. He was the last of the mohicans to run and to support personally non-commercial weightlifting. Hoffman was a wealthy man but not wealthy enough to win against the state run Red Machine across the Atlantic Ocean in the East.
The momentum went to the communist regimes with their state sponsored sports system and obsession with propaganda machine repeating over and over again "We are the best system in the world! We win the Olympics! We are the nation to follow!"
For decades, the Soviet sports universities developed weightlifting programs and courses attended by thousands of coaches and experts including experts from abroad. They were all taught how to train and how to win. It wasn't a secret national program or some cover up hiding something from outsiders. Those were coaches from all over the world attending these courses – from Bulgaria, China, Poland, Hungary and other Soviet block countries as well as from Colombia, Egypt, Greece and many other countries that didn't share political views of the Soviets but knew that it was a cutting edge, most recent studies and methodology to learn the weightlifting from.
I still don't quiet understand why the Soviets so openly shared their sports howto's with the other countries in the world. Basically, they were helping their competitors to keep up with them. So, I somehow don't buy this new theory about the state-run and drugs-driven sports in Russia only.
I might be wrong but the PEDs is a plaque that doesn't know borders or languages or specific sports disciplines. WADA really has an impressive achievements in detecting the PEDs but identifying the cheaters in sports is only a part of the overall goal of having drug free sports today. The question is not only how to identify violators but how to prevent violations. Selective bans of nations on demand causes more questions than solutions.
What Happens in Russia Stays in Russia…
This is one of the mini-series that I've launched a while ago at Chidlovski Blog Chidlovski.
It's of series is nostalgic and personal notes on topics I think or care about. It's a POV type of articles.
What happens in Russia stays in Russia… Not always and not really anymore.
I really hope that my notes on recent doping scandals were not to be heard as defending the PED taking and takers.
Drug stories in sports are for the most part sad and haunting.
Here is one of them.
The article below is a true story how two Soviet superheavyweight champs were arrested in Montreal for possession of anabolic steroids for the purpose of selling them in Canada in December 1984.
---
Soviets Act Against Weightlifters
Los Angeles Times January 13, 1985
Weightlifters Anatoly Pisarenko and Alexander Kurlovich of the Soviet Union, both world record-holders in the super-heavyweight class, have been dismissed from the Soviet team and stripped of their awards, the official Soviet sport newspaper said Saturday.
Pisarenko, 26, from Kiev, and Alexander Kurlovich, 23, of Grodno, were dismissed "for activities damaging the honor of Soviet sportsmen." They were convicted by a court in St. Jerome, Quebec, last December for possession of anabolic steroids for the purpose of selling them in Canada.
They were arrested at Mirabel Airport in Montreal Dec. 6 after customs officers searched their luggage and found methandrostenolone, or dianabol, worth about $10,000.
The drug, which increases an athlete's strength, is banned in international competition and cannot be imported into Canada without a license.
---
What Happens in Russia Stays in Russia
Both Kurlovich and Pisarenko were banned from weightlifting.
For Anatoly Pisarenko, it was the end of his career in sports. He quickly switched to business entrepreneurial activities and became one of the wealthiest men in Ukraine. He is happy and successful and sometimes shares his memories about his years in sports. No regrets about the past.
Alexander Kurlovich returned to Olympic weightlifting and won two Olympics in the 110+KG class in Seoul in 1988 and Barcelona in 1992. He works as an official in the IWF and often can be seen at the IWF competitions including Summer Olympics in Rio.
The most tragic impact the event with anabolics in the airport in Canada had on a person who had nothing to do with it. Alexander Prilepin was the head coach of the Soviet national team. He was found responsible for what happened in Canada, stripped off all his titles and degrees and fired by the Soviet sports authorities. He had a heart attack shortly after and died at 44.
What Happens in Russia Stays in Russia
Not anymore. I am thinking out loud.