Batishchev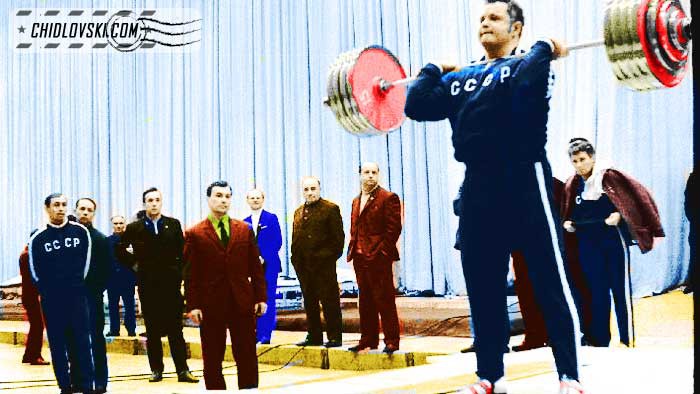 There is something futuristic in this photo from the 1960s.
The way the characters are lined up. The way they act. It's a Star Track of Olympic weightlifting.
People no longer watch weightlifting like this. It ain't a rocket science anymore. Somehow it lost its edge.
Dunno. I just like the photo.
On the photo, the group of coaches and weightlifting officials are watching Stanislav Batishchev doing a clean-and-jerk lift in some weightlifting hall.
We already wrote about Stanislav Batishchev at Chidlovski Blog Chidlovski and you can review his profile at Lift Up.
Batishchev was a world class superheavyweight lifter back in the late 1960s and early 1970.
Somehow, he was always a number two in the national team USSR. Always a backup superheavy to the the main Soviet lead.
First, he was a backup to Leonid Zhabotinsky. Then, he was second to Vasily Alexeev. He set a world record in press when he lifted 214KG in Minsk in 1970.
The only time Batishschev took the first place in the world was the odd year when the IWF cancelled the 1967 World Championship due to the "GDRgate" in Tokyo. As an alternative, there was a Little Olympics tournament in Mexico City. Batishchev won the gold medal with two Americans,  Joe Dube  and George Picket winning silver and bronze medal respectively.
Stanislav Batishschev was a member of the Club 600 that no longer accept new membership.
It consisted of five athletes who managed to lift 600KG in total during the 3-lifts era in Olympic weightlifting. There were only five such lifters in the world – Vasily Alexeev (USSR), Ken Patera (USA), Rudolph Mang (Germany), Serge Reding (Belgium) and Batshchev (USSR).
Batishchev joined the Club 600 in 1972 when he was 32. He totaled 620KG(220+175+225) at the USSR national championship in Tallinn, Estonia.
On January 1, 1973, the Olympic press lift was discontinued and that marked the end of membership in the Club 600.
Save
Save