Weightlifting Controversies of the Past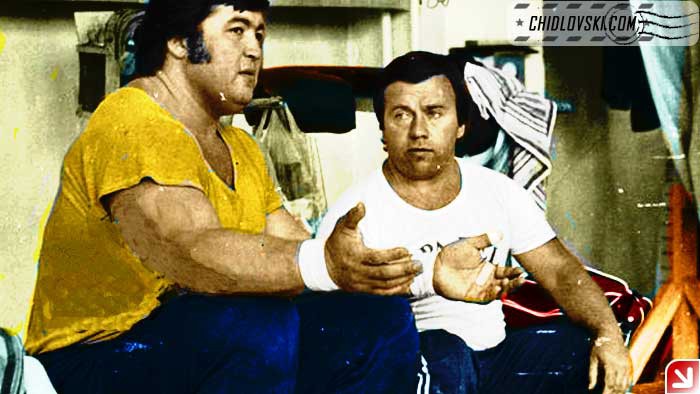 It's an interesting photo with Sultan Rakhmanov and Alexander Prilepin from the past of the Soviet weightlifting.
Sultan Rakhmanov needs no special introduction. Olympic champion in Moscow 1980, he was a superheavyweight lead in the interim period between Vasily Alexeev's era in the 1970's to the time of young and ambitious supers heavyweights that lifted for the USSR in the mid 1980s.
Rakhmanov was from the Dnepropetrovsk area where Leonid Brezhnev grew up. So, it was a great supporting factor for Sultan to have such influential political higher-ups as friends and mentors.
Connections are always important. At that time, they meant even more. Connections were everything.
On the right, we see Alexander Prilepin who was a head coach of the junior Team USSR from 1975 to 1980. Then he got promoted to be a head coach of Team USSR and made a definite impact changing the training methods in the Soviet weightlifting.
His predecessors for the most part were distinguished champions. Yakov Kutsenko, Arkady Vorobyev, Alexey Medvedev were milestone lifters in the history of Soviet weighlifting and they smoothly transitioned to the coaching and administrative authority with the national team.
Unlike them, Prilepin's contribution was mostly in sports sciences and applied theory of sports. In fact, it was Prilepin who recognized the improvement of Bulgarian weightlifting methods, studied them and authored "bulgarization" of a good old rock-solid Soviet training methodology. He also didn't neglect to emphasize the pharmacological aspect in supporting such high intensity training.
Alexander Prilepin earned a PhD and developed interesting studies. In practical matters, he applied them in training the juniors of the Team USSR and preparing the new generation of athletes.
In many ways, young Anatoly Pisarenko, Alexander Kurlovich, Yurik Mirzoyan, Leonid Taranenko, Oxen Mirzoyan and more experienced established champions like Sultan Rakhmanov, Yurik Vardanyan, Kanybek Osmanaliev, Viktor Mazin owed Prilepin significant boost in their results and standings in the weightlifting world.
At 44, Aleksader Prilepin died in Moscow in 1985.
Less than a year before his death, Soviet supers, Anatoly Pisarenko and Alexander Kurlovich were detained by custom authorities in the airport in Montreal when they tried to smuggle anabolics into Canada in the fall of 1984. Both Pisarenko and Kurlovich were stripped off all their titles and priviliges in the Soviet Union.
As for Prilepin, the Soviet sports authorities picked him as a scapegoat for the this shameful episode in Canada. The reputation of Soviet athletes was damaged. Prilepin was found responsible and was fired from coaching the national team.
Those were harsh accusations and career ending actions.
Alexander Prilepin suffered a heart attack and died on June 25, 1985.
Prilepin definitely deserves much more recognition for his role in the history of Soviet weightlifting.
The Soviet sports management seldom accepted mistakes and almost never overruled their previous decisions. This certainly explains controversy related to Alexander Prilepin and lack appreciation of his contrubution in the history books.
Save