Ready To Go To the World Championship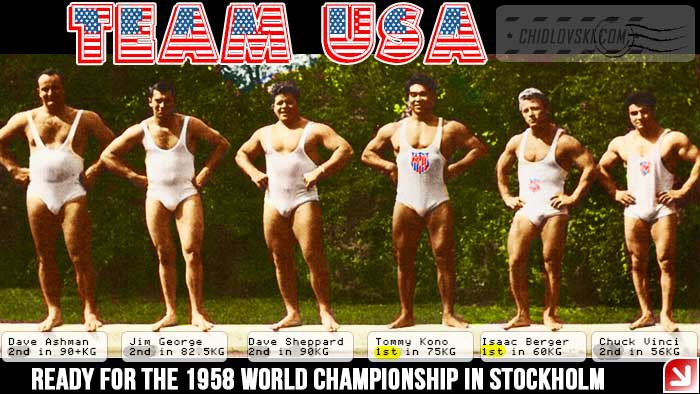 They are ready to go to the Worlds in Stockholm
Here is an interesting photo from the good old Strength and Health magazine published by Bob Hoffman.
This is Team USA 1958 posing for the group photo of American weightlifters at the Hoffman's pool in York, PA. They are about to take off for the World Championship in Sweden.
For those who don't know, Bob Hoffman for decades sponsored the U.S. weightlifting from his own pocket. Athletes lived in the bungalow of his hilltop estate and trained in his facilities in York.
Of course, financially one American millionaire couldn't really compete with the rising Soviet sports powerhouse. After all when the USSR collapsed in 1991, it left hundreds millionaires and dozens of billionaires. What chance did Bob Hoffman actually have to compete against the Big Red Machine?
They are ready to go to the Worlds in Stockholm
But, back in 1958, hopes and expectations were still high. American weightlifting continued its battles against the rising weightlifting power.
The photo depicts six U.S. athletes from Team USA 1958 and all six came back home from Stockholm with medals.
Chuck Vinci of Ohio won silver medal in the bantamweight class (56KG)and Russian Vladimir Stogov won the gold.
In the featherweight, Isaac Berger won the first place with a 10KG lead over silver medalist Eugene Minaev of Russia.
Legendary Tommy Kono won the 75KG competition with Fedor Bogdanovsky on the second place.
Jim George won silver medal in the 82.5 KG class behind Siberian strong man Trofim Lomakin. He managed to beat Lomakin in the snatch and cj'd 170KG – same as Trofim. But 10KG lead in the press lift gave Lomakin the gold.
Middle heavyweight Dave Sheppard won silver medal in the 90KG class with Arkady Vorovyev being crowned as No. 1 in the world.
In the 90KG+ category, Alexey Medvedev won the title and Dave Ashman won the silver medal. Needless to say, Ashman was the first man in the world to clean and jerk 200KG. He had world class lifts in the snatch and cj but lacked strength in the press lift. In Stockholm, he was only 5th in the press and then managed to win the second place in total due to outstanding results in his dynamic lifts.
Just a blast from the past when we could definitely say:
They are ready to go to the Worlds in Stockholm