Jacques Plante and Vladislav Tretyak in 1972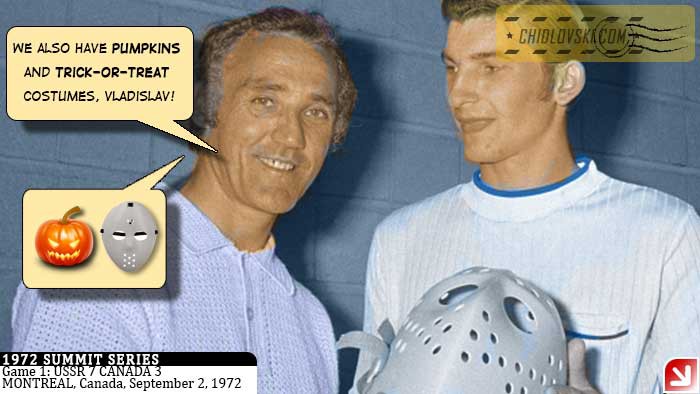 Jacques Plante came into our room with an interpreter and amazed us by sitting with me and explaining in
detail how I should play against the likes of Mahovlich, Esposito, Cournoyer and Henderson. I am still
puzzled by what motivated him to do that. I will always be very grateful to Jacques Plante, whose
suggestions helped me very much.
Vladislav Tretyak
One of many stories about the 1972 Summit Series describes how legendary Jacques Plante spoke to the Soviet goalie Vladislav Tretyak a few hours before the series started. Needless to say, that the 20-year old Soviet netminder Tretyak was expected to be the weakest part of the Russians and an easy target for Team Canada. So, it was super nice and generous that Mr. Plante talked to Tretyak before the game.
With all these said, I always wondered how much of this was true and helpful for Tretyak? What language did they speak in? For the Soviets of those times the top NHL names like Phil Esposito, Frank Mahovlich or Bobby Orr was pretty much meaningless. With the Iron Curtain on, the Canadian super stars were some guys from unknown planet.
And then I thought it will  really help with an hour or so before the game to know how to play against the opponents? Can one really make drastic changes within this short period of time?
Just recently I saw the picture of Jacques Plante and Vladislav Tretyak in Montreal prior to Game 1. They did talk!
Tretyak always wore a "bird cage" style of mask and legendary Montreal goalie showed him an old style mask.
Well. good thing Tretyak didn't switch his mask style in the last moment before the Series started.
Or, perhaps, they were talking about Halloween celebrations in North America? " 🙂
Remember the hockey legends and have a great Halloween celebration!
Cheers to all!