Brad Marchand Questions Usage of Meldonium in Russia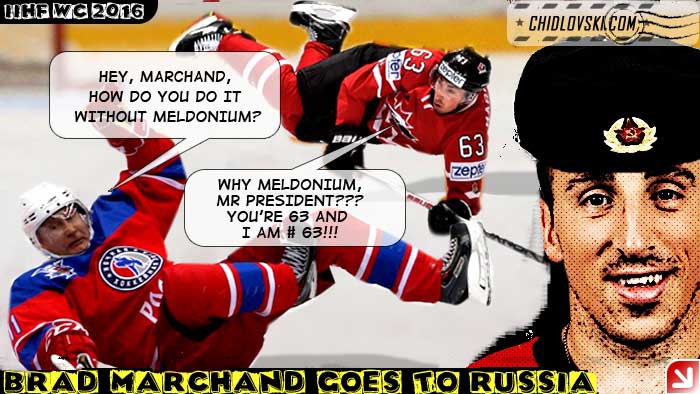 Team Canada and Boston Bruins own Brad Marchand had a day off today at the 2016 World Championship in Russia.
Team Canada won 4 in 4 games. They played  against USA, Hungary, Belarus and Germany.
Team Russia seems to be doing better adter a shaky start against Czech team. The Russian team got good and bad news from America.
The good news is that they got a top notch NHL re-enforcement with Ovechkin, Kuznetsov and Orlov arriving to play Moscow.
The bad news is the sesational info from Russian doping doc who tells the doping story of the champions of Winter Olympics in Sochi. Now, according to the doc, he administered drugs with alcohol beverages. That definitely boosted interest in Russian sports cocktails among North American party goers.
"How do you do it without meldonium?" President Putin asked Brad Marchand.
"No meldonium, sir. You are 63 and I am just # 63!" – shared Marchand his take on the problem.
Other than that, good luck to all @ 2016 IIHF World Championship in Russia!
Shaibu-Shaibu! Do Toho! Go Canada! Go USA! Heja heja!
Did I miss something?
Here is the latest tid bid from Russia for visual folks. Brad Marchand scores against Team USA in the opener  in St. Petersburg.