Now and Then (1972-2016): Bench Canada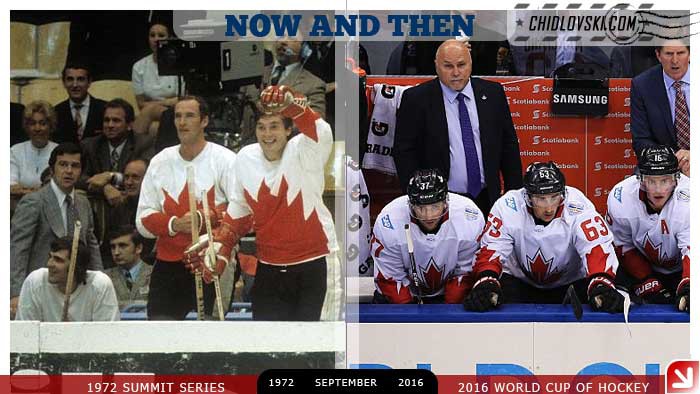 September 26, 1972 – Moscow, Luzhniki Arena. Team Canada – Team CCCP, Game 7.
September 27, 2016 – Toronto, Canada. Team Canada – Team Europe, World Cup of Hockey, Game 1 Finals.
There are plenty of celebration reasons today.
We are having a great fun watching the 2016 WCH finals.
We are remembering the great 1972 Summit Series.
Back in the 1972, the teams played three lines game.
It was only in 1974 when young Soviet coach Viktor Tikhonov introduced a four forwards line game innovation in Riga with the idea to keep up with the better roster of the opponents and to increase the speed of the game.
Perhaps, had this idea been introduced earlier, Harry Sinden would have been able to play more forwards in Team Canada and no players would have left Team Canada campus in Moscow in 1972 because of the lack of ice time they were getting. Back then Sinden had to stick with the guns able to keep up with the Russian team.
Here is the roster of Team Canada in Game 7:
Canada: Bergman, Stapleton, Park, Ellis, P. Esposito, Gilbert, Goldsworthy, D. Hull, Cournoyer, White, Ratelle, Henderson, P. Mahovlich, Parise, Savard, Lapointe, Clarke

Team Canada won 4-3.
Guess who scored the GWG at 17:54 in the 3rd period?
Save