2015 World Championship: Men, 94KG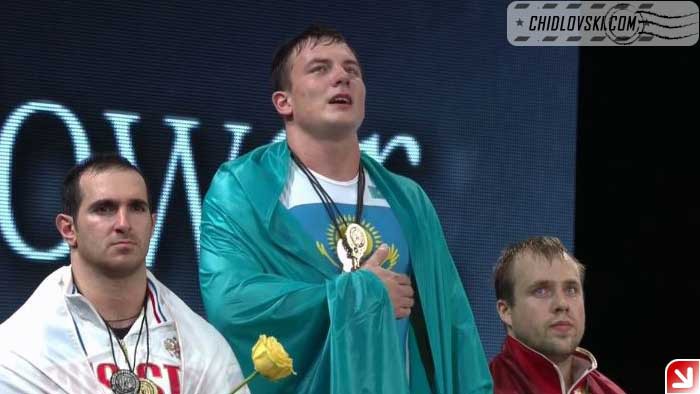 The 105KG weight class in men's program is a hot ticket at the weightlifting tournaments. The lifters are very athletic. The loads are heavy and impressive.
The heavier, the merrier.
Audience in the weightlifting hall just love to watch this class.
World championship is an important competition for Olympic weightlifters. The top priority is the Olympics. Then, goes the Worlds.
So, there were plenty of talent that was eager to win tonight when they entered the competition stage in Houston, TX. All 11 athletes in the A list were capable to total over 400KG.
The snatch competition was won by Ivan Efremov of Uzbekistan. 29-year-old athlete lifted solid 3-in-3 – 183KG, 187KG and 192KG. Gold medal in the snatch.
Alex Zaychikov and Simon Martirosyan were the second and third with 191KG and 186KG respectively.
Russian heavyweight David Bedzhanyan won the jerk competition with 231KG lift. Zaychikov took the second place again.
Bedzhanyan is a superb squat-style jerker. He set two world records in this lift in 2011 and 2014. However, his results in the snatch didn't allow him to win gold in total. He was only 9th in the snatch with 180KG. It was 7KG less than he lifted at the Worlds in 2014 when he won the bronze medal. This year David lifted 16 less than last year in total but he won the silver medal.
The world title in this class went to Kazakhstan. Alex Zaychikov won silver medal in individual lifts and won the first place in total. Arturs Plesnieks from Latvia won his first world medal in his career. He'll take a bronze medal to Latvia. He was the 10th in the snatch and the 4th in the jerk competition. But, overall, he was #3 this year.
2015 World Championship

Location: Houston, USA
Weight Class: Heavyweight  [105 kg]

Rank
Athlete
Results (kg)
1
Alexander ZAYCHIKOV,  Kazakhstan
191+230 = 421
2
David BEDZHANYAN,  Russia
180+231 = 411
3
Arturs PLESNIEKS,  Latvia
179+226 = 405