2015 World Championship: Women, 69KG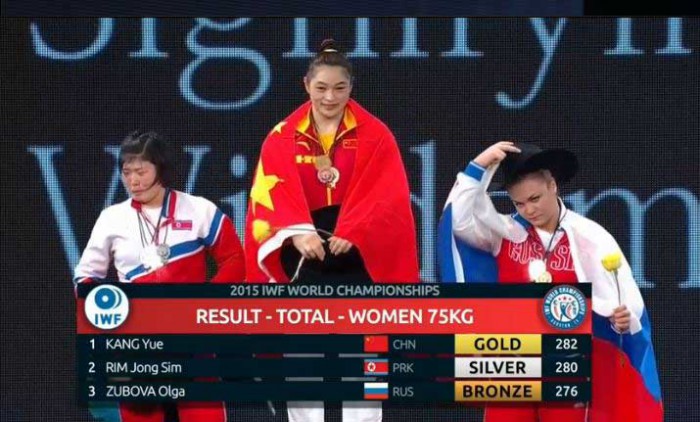 In the Women 75KG at the weightlifting world championship in Houston, Texas, again the top of the medal stand was conquered by a Chinese lifter.
24-year-old Yue Kang won gold medal in total with 282KG. Silver medal was awarded to Jong Sim Rim, PRK, and Olga Zubova won the third place.
Needless to say, it was one of the most dramatic competitions at the 2015 IWF World Championship this year.
Silver medal by Rim deserves a bucket of gold medals. A clothes store of Stetson hats and a plantation of yellow roses of Texas. It was absolutely heroic and unprecedented when, badly injured in the snatch, Rim lifted heavy in the jerk program. It was lifting for life, for her country and for something that goes beyond rational appreciation of the iron game… It definitely deserve a separate story.
The 4th place by Svetlana Podobedova also deserve a separate discussion. She was well prepared for the tournament, she is a gutsy clutch athlete and she lost the bronze medal to Olga Zubova by bodyweight.
For now, thank you, wonderful and beautiful and strong ladies of the 75KG weight class. You gave us a memorable day and it was fantastic!