Isaac "Ike" Berger (1936-2022)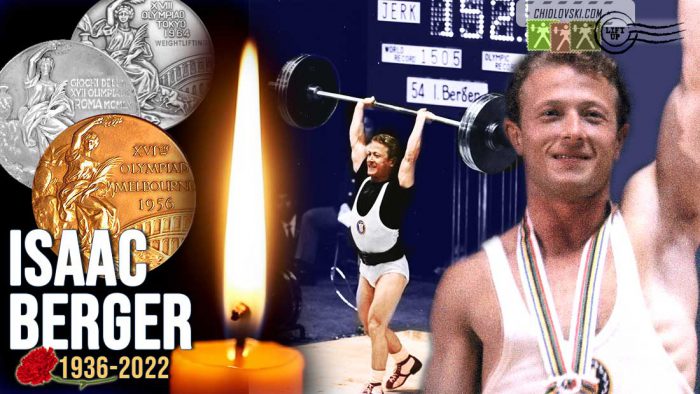 Legendary Olympic weightlifter Isaac "Ike" Berger died on Saturday, June 4, 2022. He was 85.
Olympic champion and 2-time Olympic vice champion, 2-time World Champion and author of numerous World records, Isaac Berger is one of all-time greatest legends in the history of Olympic weightlifting.
Berger was born in Tel Aviv, Israel in a family of a rabbi and emigrated to the United States at 13. In 1955, Isaac Berger became a U.S. citizen.His weightlifting career took off in the early 1950's when legendary Bob Hoffman, the "father of American weightlifting" discovered him. By that point, he could already clean 60 kg.
Isaac Berger competed for the York Barbell Club and was on the top of the Iron game in the late 1950s – mid 1960s with an Olympic gold medal won in Melbourne (1956) and 2 silver medal earned in Rome (1960) and Tokyo (1964). In his outstanding career in sports, Berger won 2 world and 8 national titles and set 6 world records. Isaac Berger also competed for the Team USA in the Cold War Classics tournaments – the USA vs. USSR weightlifting matches held in the Soviet Union and United State in the 1950s. In fact, Isaac was a part of the first ever American sports team to go to Moscow during the Cold War era (1955).
At the 1957 Maccabiah Games in Tel Aviv, featherweight Isaac Berger won a gold medal and broke a World record in press lift. 21-year old Isaac became the first athlete ever to set a World record in any sport in Israel. Israeli Prime Minister David Ben Gurion presented a gold medal to a 20-year old champion and called him the "gibor Yehudi," or "mighty Jew."
Our deepest condolences go to the family and close friends of Isaac Berger.
Rest in Peace, Legendary Champion.