Midsummer Night's Dream by Adele in Florida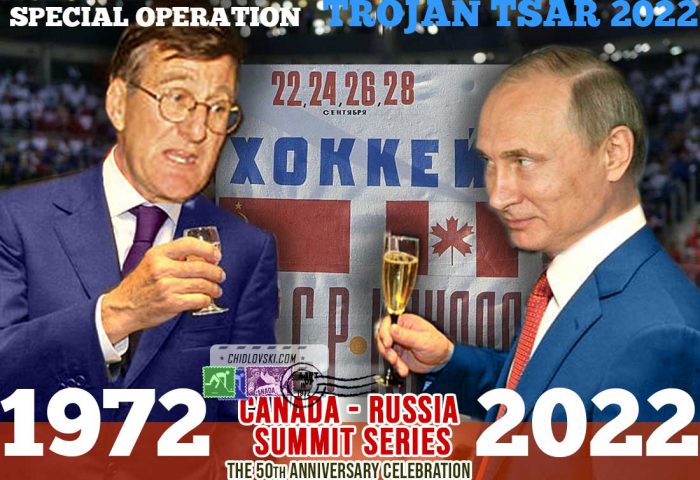 Adele had a dream. A Midsummer Night's Dream.
Adele is no William Shalespeare. In fact, she is my late companion and she is a Jack Russell lady terrier. With all these said, she is extremely intelligent, energetic and does things her way. She wasn't intimidated by a sign in our condo place stating that "Dogs are not allowed". Adele turned to me and told me to wait. She ran to the pool manager and I was allowed to the pool. She thought that I was a dog and couldn't go to swim with her. Go figure!
Adele grew up in Florida and never been in Europe. She didn't follow the hockey and had no clue about upcoming 50th Anniversary of the Canada vs. Russia Summit Series in 1972. She doesn't know that Ukrainian and Russian are two different languages. She has very little idea about the sanctions against Russia that invaded Ukraine in February and that Russian hockey superstars who played vs. Team Canada in the 1972 Summit Series were not invited to the celebration party. Players from Russia were not welcome to the NHL anymore unless they already have sighned contracts.
Adele was overwhelmed with all the info and looked at me with innocent intelligence of a Lady Jack Russell:
– Big deal! Who else is not invited?
I thought for a moment and said:
– Alan Eagleson.
Adele didn't know him either.
– Let me think about it.
And she went to sleep. In the morning, she told me that she had a Midsummer Night's Dream.
Here is a brief synopsis of her Dream. It is true that Alan Eagleson in all probability won't be invited to a 50th Party for Team Canada. Nowadays, he is a disbarred lawyer and hockey executive. In 1994, Eagleson was charged by the FBI with 34 counts of racketeering, obstruction of justice, embezzlement and fraud in the United State. He is nothing nowadays. But 50 years ago, he was everything in the hockey world. Interestingly enough, he worked for both – the hockey players and for the owners of the NHL clubs. He was the executive director of the NHLPA and an agent of the best players of the era… and these guys lost all their retirement money that went to Eagleson. On the other hand, it was Eagleson who brought NHL players to play the 1972 Summit Series and then produced all the big tournaments like 1975 NHL vs USSR Clubs Superseries, 1979 Challenge Cup, Canada Cups and then World Cups.
In April 2022, Eagleson turned 89 and nowadays lives a rather pathetic life of a former VIP and a criminal that no one wants to be around anymore.
In her Dream, Adele saw a way to give Alan Eagleson the last chance to strike back – to send him for the 50th Anniversary Celebration to Moscow with a special operation with a classified title "The Trojan Tsar" During the celebration, Eagleson will share a package on how to improve the KHL in Russia. He will become a KHPLA executive director and proceed with the Russian hockey players the way he did with Bobby Orr, Phil Esposito, Brad Park and more. Eventually, the KHL will collapse and the national economy in Russia too.
That's just Adele's Midsummer Night's Dream. First draft.
Anyway, Adele is happy with the Dream and about to contact the Jack Russell's consulting network in Washington, D.C. and Ottawa, Canada.
Are all ready for a huge celebration of the 50th Anniversary of the 1972 Summit Series? I think Adele is 🙂