Ups and Downs of the Dinamo Riga Weightlifters in Vilnius (1970)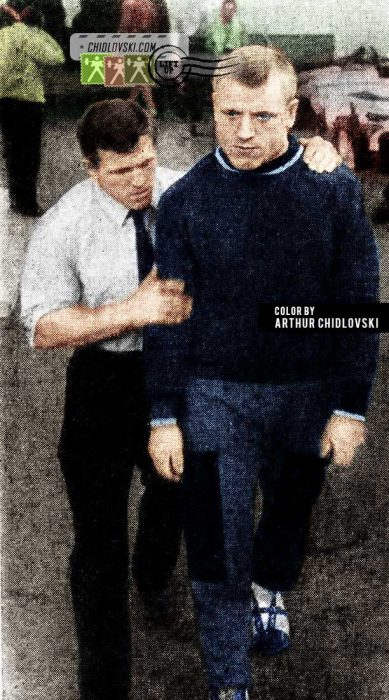 History in Color:
April 26, 1970, Vilnius, Lithuania, USSR –  Light heavyweight Gennady Ivanchenko assists his Dinamo Riga Club teammate Karl Pumpurins while he competes in the heavyweight class at the 1970 USSR Championships in Vilnius.
Both athletes were well-known and respected in weightlifting world.
In fact, two day earlier, Gennady Ivanchenko set a milestone world record in total, 500kg (165+150+185), and became the first 82.5kg athlete in the world to join the 500kg club. Karl Pumpurins had a number of world records in the Olympic press, but his weakness was in the snatch lift. In Vilnius, Karl bombed out in the snatch and the History in Color cover photo captures the moment of disappointment when Ivanchenko supports and tries to calm down his teammate after failing in the snatch.