Lennart "Hoa-Hoa" Dahlgren is 70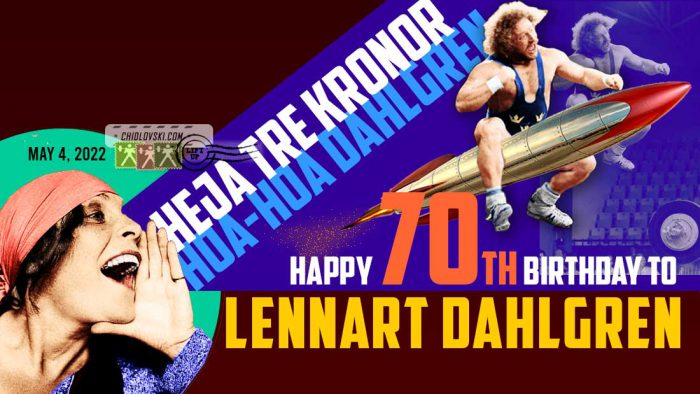 May 4, 2022 – Famous Swedish weightlifter Lennart "Hoa-Hoa" Dahlgren celebrated his 70th Birthday.
Happy Birthday to Lennart Dahlgren! Hooray-Hooray to "Hoa-Hoa" Dahlgren of Sweden!
---
Folke Lennart Roland "Hoa-Hoa" Dahlgren was one of the top Swedish weightlifters of the 1970s. He competed for the Stockholm Athletics Club. Dahlgren represented his country at the 1976 Summer Olympics in Montreal and won 11 national titles in Sweden. His personal best was a total of 360kg (160+200) at the competitions in 1978.
Besides his career achievements in competitions, Dahlgren became well-known for his entertaining routines and unorthodox appearance during weightlifting tournaments. We already wrote about his memorable hoops in Montreal at the 1976 Summer Olympics. Weightlifting is a serious sports and mixing it with entertaining has never been the overall point but… the black-and-white photo of Lennart Dahlgren celebrating his lift actually became one of the mostly quoted and reproduced shots of the Olympics in 1976.
After his retirement from competitive weightlifting, Lennart Dahlgren became a famous restaurateur,  host and wrestling commentator on television in Sweden.