Lennart Dahlgren: This one is for you, Mother Sweden!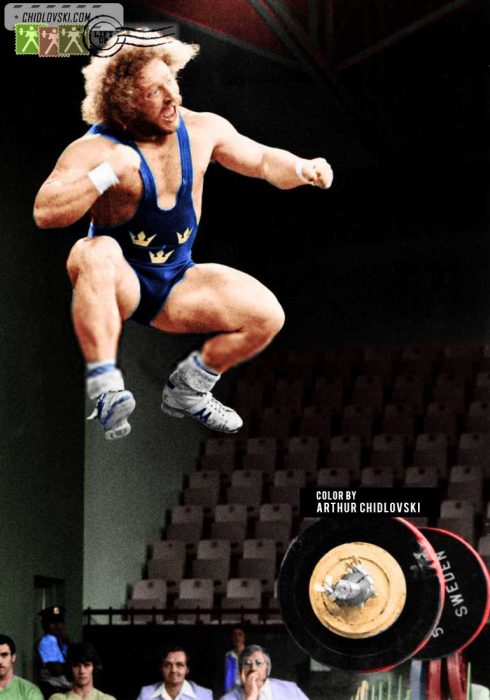 History in Color:
July 27, 1976, Montreal, Canada – 24-year heavyweight Lennart Dahlgren of Sweden performs his unforgettable "joy jump" while snatching 155kg in his 3rd attempt in the 110kg weight class at the 1976 Summer Olympics in Montreal.
Lennart Dahlgren took the 11th place with a 355kg (155+200) total in Montreal. The 100kg weight class was established in 1977 and and, with a 99.25kg body weight, Dahlgren was the lightest heavyweight at the Olympics in 1976.
The review in the "Strength and Health" magazine didn't really approve Dahlgren's theatrics in Montreal:
"(Dahlgren) did more jumping than lifting. Note that the bar didn't even touch the platform and he was still in the air over it."
Weightlifting is a serious sports and mixing it with entertaining has never been the overall point but… the black-and-white photo that we showcase as our History in Color glimpse actually became one of the mostly quoted and reproduced shots of the Olympics in 1976.
Even nowadays.
Last year, several friends forwarded me an email from the World Funniest Photography subscription list with a photo and a caption saying:
"Swedish weightlifter Dahlgren celebrates a victory at the 1974 Olympics in Montreal"
Obviously, the list admins might have forgotten when was the Olympics held in Montreal and who won over there but they still enjoy the view of Lennart "Hoa-Hoa" Dahlgren performing his big celebration in 1976.
Perhaps, it should be said… This one is for you Mr. Dahlgren – the world still remembers and loves you.