Lifting Happy in NYC: Dave Sheppard vs. Arkady Vorobyev in 1958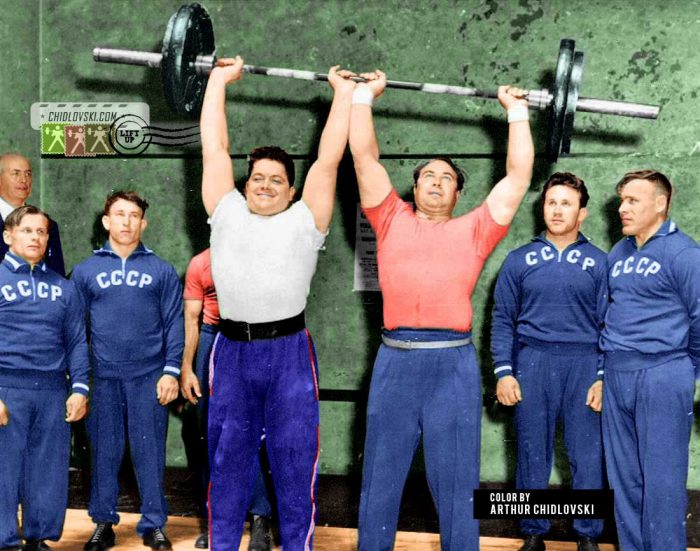 History in Color:
May 17, 1958, New York City, NY – Legendary Dave Sheppard (USA) and Arkady Vorobyev (USSR) are performing a friendly joint weightlifting during the 3rd match of the 1958 USA vs USSR Olympic weightlifting series at the Madison Square Garden in NYC.
Left to right:
Bob Hoffman (USA, team manager), Vladimir Stogov (USSR, 56kg), Yevgeny Minaev (USSR, 60kg), Dave Sheppard (USA, 90kg), Arkady Vorobyev (USSR, 90kg), Fedor Bogdanovsky (USSR, 75kg), Trofim Lomakin (USSR, 82.5kg)
The 1958 USA vs USSR series consisted of three matches held in Chicago,  IL, Detroit, MI and NYC, NY.
In all three, it was Arkady Vorobyev vs. Dave Sheppard in the 90kg weight class.
Vorobyev won in Chicago, Sheppard in Detroit. Both finished with the same 455kg total in New York. The win in the third match was given to Dave Sheppard because his body weight was lighter.