Unsung Heroes: Vasily Pegov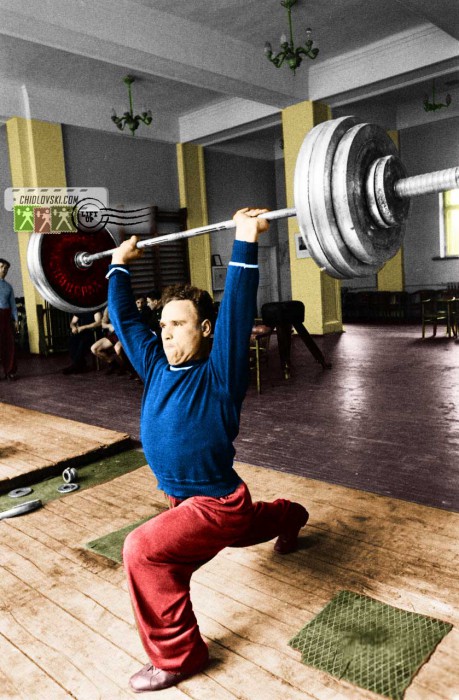 Thank you so much for the colorized photos of so many Soviet lifters. Many of these were before I got interested in lifting but many were also lifters who never got to compete outside of the SU due to the incredible depth of the nations talent pool. They set world records but never made international teams. The old saying was, 'It's harder for a Soviet to make it to the world championships than it is to win them.' I love what you do here.
KEVIN ST. JOHN, Rochester, NY USA  (Letters to Lift Up)
Thanks so much for a wonderful and inspiring comment, Kevin! The idea behind the History in Color series is to bring another angle to the history of Olympic weightlifting. It's not necessarily less known Soviet athletes but enhanced photos and stories on great weightlifters of the past. Some of them are household names. Some may be called "unsung heroes".
This time the cover photo features Vasily Pegov of Penza, USSR training in 1956. He is a candidate to the Team CCCP Weightlifting that is preparing for the 1956 Summer Olympics in Australia.
Pegov was a multiple time medalist of the USSR Championships (1956, 1959, 1960, 1961, 1962) and the USSR Spartakiads (1956, 1959). He held a world record in the clean and jerk lift.
Vasily Pegov competed for the "Soviet Wings" club in Moscow and the "Trud" club in Setun and Moscow.
I wish I'd tell you more on Vasily but I can't.
Please tell me and readers more on Vasily Pegov in the comments below.
We definitely want to know more…