Mr. Weightlifting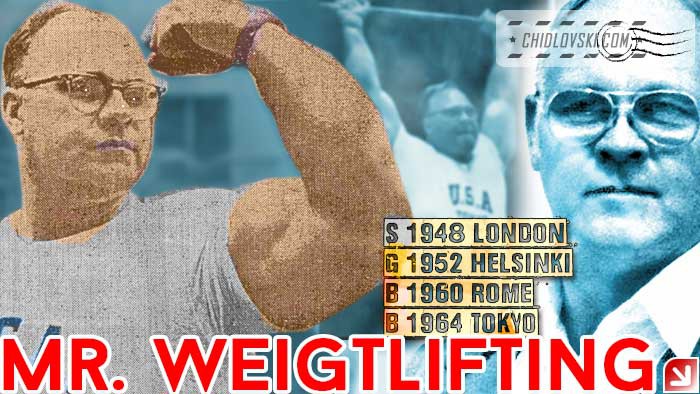 Mr. Weightlifting is 92 years old now and he is in 24-hour care. 
Mr. Weightlifting is Norbert "Norb" Schemansky. This is the way he was called back in the days. This is the way he is being called now.
We published an update on Norb Schemansky and there were very interesting comments with memories and thoughts about him.
Actually, it's three stories. Very personal.
Norbert Schhemansky had a long and outstanding career in Olympic weightlifting. In many ways, he to various extent affected all lifters in the U.S. for sure and in the world too.
There was this game "six degree of separation" with Kevin Bacon. In the weightlifting world, it's six degree of separation with Norb Schemansky. He brought medals from four Olympics – silver in London 1948, gold in Helsinki 1952 and two bronze medals in Rome 1960 and Tokyo 1964. He missed the 1956 Olympics in Melbourne because of injuries.
This is a long and super impressive career. This is decades of world class lifting and competing against elite athletes.
In his interviews, Norb often says that he is more popular in Russia than in his own U.S.A.
It might sound like one of the sports anectodes but it is very true. Norbert Schemansky is well-known in Russia.
Honestly and truly.
He is definitely in the top 5 household names that Russians will remember about American lifters.
Even 50+ years after his last Olympics.
Paul Anderson, Tommy Kono, Norb Schemansky… For sure.
I remember how we all thought that all American weightlifters were super wealthy guys. We knew that the sport was being run and supported by a millionaire in York. His name was Bob Hoffman. And it all sounded like a fairy tale – a millionaire guy supporting weightlifting. They should all be very rich.
Soviet weightlifting was run by the state. We were very proud that we were able to compete against some millionaire in PA.
Oh, well. Little that we know that in a few decades the Soviet Union will collapse and it will produce thousands of millionaires in the new Russia and it actually was Bob Hoffman who was in trouble to afford competing against the Soviet state-run weightlifting system. Big Red Machine…
"Schemansky?" replied my coach on a question of a junior lifter that happen to be the author of this article. "Of course, I know Norbert Schemansky. He is the man. Mr. Weightlifting!"
It was many years ago.
Still remember.
Six degrees of separation with Mr. Weightlifting.
Care to share a story?
Mr. Weightlifting is 92 years old now and he is in 24-hour care. 
Norbert Schemansky won many battles in his life. We wish him to win again!
Save