2015 World Championship: Women, 69KG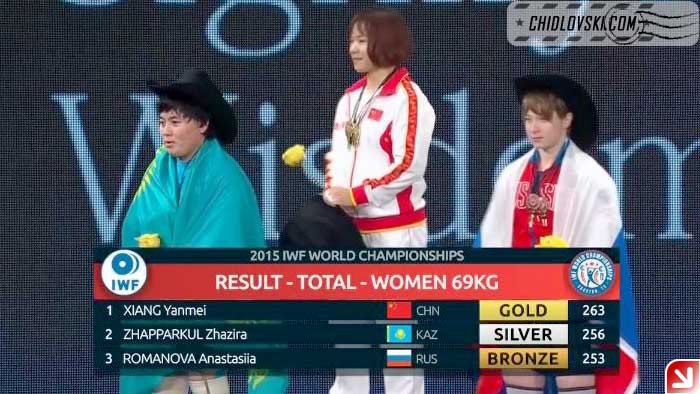 Yanmei Xiang won a  gold medal for China in the 69KG class with 263 KG total.
Xiang lifted 120KG in the snatch and 143KG in the jerk and left Zhazira Zhapparkul (Kazakhstan) and Anastasia Romanova (Russia) with silver and broze medals respectively.
So far at the 2015 World Championship in Houston, TX, there were several bomb-outs by Chinese lifters in men's competition.
On the other hand, women keep showing rock solid lifting for Team China. Perhaps, female lifters value yellow roses of Texas that come with the medals, more than their male teammates 🙂
Medals go to winners from the IWF.
Yellow roses go to winners from Texas.
Respect and congrats go to winners from us at Chidlovski Blog Chidlovski.
And now all together:
There's a yellow rose in Texas, that I am going to see,
Nobody else could miss her, not half as much as me.
She cried so when I left her, it like to broke my heart,
And if I ever find her, we nevermore will part.