Norb Schemansky Wins the 1952 Olympics In Helsinki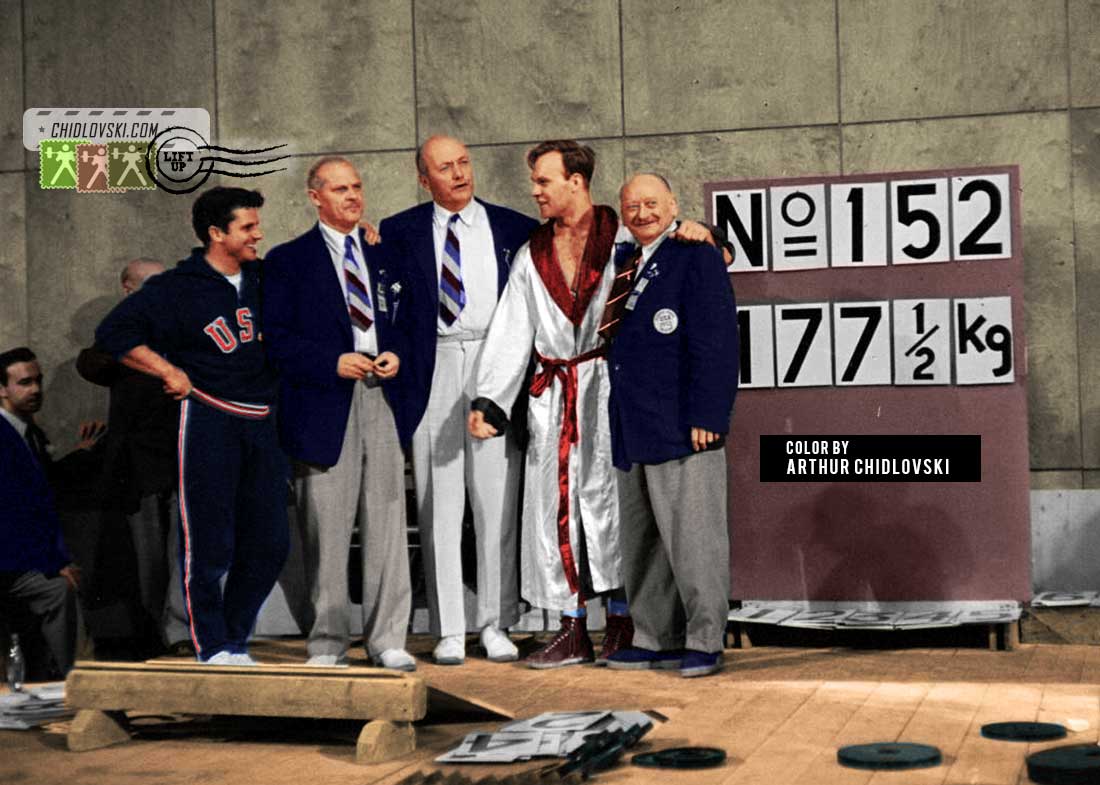 July 27, 1952, Helsinki, Finland – 28-year old mid heavyweight Norbert Schemansky of Detroit just won an Olympic gold in the 90kg weight class at the 1952 Summer Olympics in the Messuhalli (Exhibition Hall). He did it with a huge bang in his last attempt when he set a new world record in the clean-and-jerk (177.5kg). His team joined him to share a joy of the moment and to celebrate a big win:
Left to right:
Alvin Roy (team trainer), Clarence Johnson (assistant manager), Bob Hoffman (team coach), Norbert Schemansky (90kg, contestant), Dietrich Wortmann (manager)
Norbert Schemansky won his gold medal with an outstanding 445kg total (127.5 + 140+ 177.5). He set 3 world records than night and outlifted his main opponent Grigory Novak of the USSR by 35kg!
Grigory Novak was the first Soviet World champion ever. Not just in weightlifting – in all sports. He had a phenomenal press lift. Authors still write historical and scientific papers about his press lifting.
Despite this, the weightlifting champions were being determined by the total of three lifts and Novak stopped progressing in the other two lifts of the program at some point of his career. Why would he bother working on those if he had such a cosmic set of results in the press? It was enough to win against any opponents at the time.
Obviously, it was a mistake. 28-year old Norb Schemansky of Detroit, MI caught Novak exactly on this mistaken assumption that Novak's superb pressing would guarantee him a gold Olympic medal.
Schemansky had a great performance in Helsinki – he did 9 for 9 that night! He also did two additional lifts for the world records in the snatch and clean-and-jerk. On the other hand, Novak lifted 3 for 9 which was obviously a very poor tactical score.