Ben Helfgott, Holocaust survivor and Olympic weightlifter, dies at 93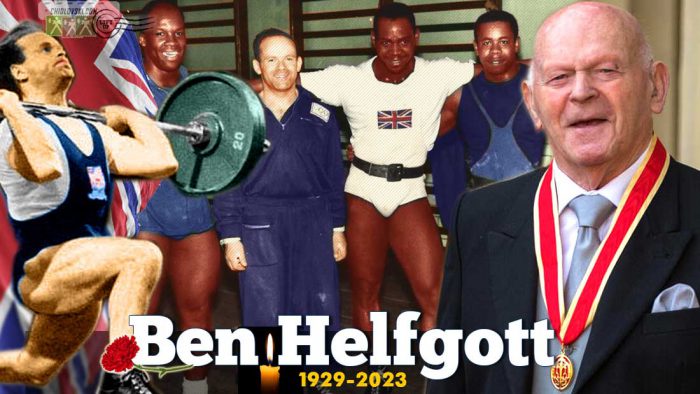 June 16, 2023 – Ben Helfgott, Holocaust survivor and British Olympian at the Olymics in 1956 and 1960, died at 93.
Benjamin "Ben" Helfgott survived the Holocaust as a teenager and then he went on to become a champion Olympic weightlifter and a champion of Holocaust education. He was knighted in 2018.
As one of the best UK Olympic weightlifters, Helfgott was selected twice to represent his country at the Olympics in Melbourne (1956) and Rome (1960) and took the 11th and 16th places respectively. He competed for Britain and won gold medals at the World Maccabiah Games in Israel in 1950, 1953 and 1957. He also won a bronze medal for England with a 340kg total at the 1958 British Empire and Commonwealth Games in Cardiff, Wales.
He is survived by his wife, Arza, whom he married in 1966, and their three sons, Maurice, Michael and Nathan, and his sister, Mala. On behalf of LiftUp community, we send our condolences to Sir Ben Helfgott's family and his close friends and associates.
---
Holocaust survivor who settled in Britain after the war, becoming a successful businessman and an Olympic weightlifter
Michael Freedland*
Mon 19 Jun 2023 12.41 EDT
Sir Ben Helfgott, who has died aged 93, was one of "the Boys", a group of more than 700 young Holocaust survivors (some of them girls) who, having left the concentration camps behind them, settled in Britain and remained friends for life. Helfgott spent the postwar years of freedom not just in building his life as a leading clothing manufacturer and Olympic weightlifter but in devoting himself to others who had had experiences similar to his own, but who had not achieved his degree of success.
The Boys became the 45 Aid Society, founded in 1963 to help those who had been in the camps, but also to spread the word about their suffering and emphasise that it should never be allowed to happen again, to anyone, anywhere. Helfgott was the society's chairman from its inception until 2016, when he became president.
Ben Helfgott was knighted in 2018. When asked about the victims of the Holocaust, he said: 'We can't bring them back. Their memory has to stay alive, not just for them but for posterity.'
He retired from his business at the age of 52. "I had hoped to be able to concentrate on learning more languages [he spoke seven], but my charity and communal work took priority," he said. He was a leading member of the Board of Deputies of British Jews and became chairman (1985-2005) of its Yad Vashem committee, which promotes Holocaust education, and was a trustee and latterly a patron of the Holocaust Educational Trust. He was on the executive of the world's premier repository of Holocaust literature, the Wiener Library in London, was chairman of the Polin Institute for Polish Jewish Studies. He was vice-chairman of the Claims Conference, set up to process German reparations for Holocaust victims.
One of three children of Moishe and Sarah Helfgott, Ben was born in Pabianice, Poland, but moved as a child to Piotrków, a town with a large Jewish population, where his father owned a flour mill. When the Germans arrived in 1939, the family were among those moved into a ghetto of about 24,000 Jewish people from Piotrków and the surrounding towns and villages. For a time, Moishe operated a rudimentary flour mill in the ghetto, with the help of a forged exit pass and some former employees living outside who managed to smuggle a little wheat to him.
Ben was set to work in a glassworks, , employed on the night shift, which turned out to be what saved his life. When the Nazis came during the day to deport the Jewish workers, he was not there. It could not last. In 1942 deportations to the Treblinka extermination camp began, and the ghetto's population was reduced in the space of a week to less than 3,000. Later that year Sarah and Ben's eight-year-old sister Lusia were among those who perished when a group of 500 were rounded up in the local synagogue, then shot in nearby woodlands. In 1944 his sister Mala was sent to Ravensbrück women's concentration camp. Ben and his father was sent to the Buchenwald camp, and then he was transferred on, alone, to Schlieben. Later he discovered that Moishe, a strong, enterprising man, had been shot after he attempted to escape from being sent on a forced "death march".
As the war came to an end, Ben was transferred to Theresienstadt in Czechoslovakia, once described as the Germans' "show camp" visited by Red Cross delegations. Conditions were better than those at Schlieben, but it was, in fact, a waystation for those being sent to Auschwitz. By now, however, it had another purpose – to hold those who managed to survive the journeys from the camps the Nazis had evacuated. Finally, at Theresienstadt, Helfgott was liberated by Czech partisans in May 1945.
"The Boys", helped by the Central British Fund for German Jewry, were lucky enough to find homes in Britain. The first group, including Helfgott, arrived in August 1945 at a resettlement centre at Windermere in the Lake District, where, for the first time in six years, they were treated as human beings, given good food, clean bedding and a chance to think of the future. "It was heavenly," Helfgott recalled.
Later, they were taken on holidays, too – to the Isle of Wight. Helfgott was able to show he was a considerable athlete, excelling in gymnastics, volley ball, table tennis and, most remarkably for a youngster who had been living on starvation rations just a few months before, in weightlifting.
By 1947, the group had scattered, some living in hostels, some finding their first jobs. But they wanted to keep in touch with each other. The answer was the establishment of the Primrose club in Belsize Park, London, a club for survivors and for other Jewish young people – the aim of its founder, the German-born athlete Paul Yogi Mayer, was that, while they wanted to stay together, they needed, too, to be exposed to the companionship of others who had been lucky enough not to suffer their fate.
For Helfgott, Primrose opened the way for him to show his athletic prowess. Weightlifting became his speciality. By the early 1950s, he had broken records and become British champion. At the Melbourne Olympics in 1956 and at Rome four years later, he proudly marched behind the union flag. "I had become a British subject and this was the greatest moment for me, to be able to show my appreciation." He won no medals. "But I never expected to," he said. "I was working and only had about five hours a week to practise." He did win gold medals at the World Maccabiah Games, the "Jewish Olympics", representing Britain in Israel in 1950, 1953 and 1957.
In August 2005, Helfgott was awarded Poland's highest civilian award, the Commander's Cross of the Order of Merit, for his work for Holocaust education and for Polish-Jewish relations.
Appearing on Desert Island Discs in 2007 he spoke about how important it was to him to tell the stories of those who were killed: "We can't bring them back. Their memory has to stay alive, not just for them but for posterity."
He was appointed MBE in 2000 and knighted in 2018. Asked how he managed to survive, he said: "I was lucky. I had a father who worked to save me – and I found England."
He is survived by his wife, Arza, whom he married in 1966, and their three sons, Maurice, Michael and Nathan, and his sister, Mala.
---
* Sir Ben Helfgott obituary at www.theguardian.com .
Ben Helfgott, Holocaust survivor and Olympic athlete, born 22 November 1929; died 16 June 2023