Sergey Arakelov: 1979 USSR Spartakiade in Leningrad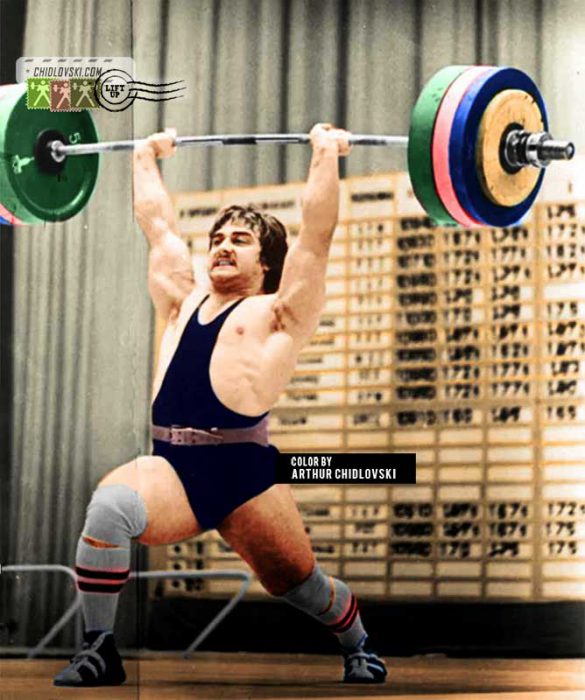 History in Color:
August 2, 1979, Leningrad, Russia, USSR – 21-year old heavyweight Sergey Arakelov of Krasnodar, Russia competes in the 110kg weight class at the 1979 USSR Spartakiade and 1979 USSR Championships in Leningrad.
At the tournament, Arakelov set a world record in snatch (185.5kg) and won a silver medal in total with 407.5kg (182.5+225)
---
Sergey Arakelov (born in 1957) was one of the strongest Soviet athletes in the 100kg and 110kg weight classes in the late 1970s and early 1980s.
A graduate of Krasnodar Weightlifting School of that era, Arakelov established himself as one of the most promising junior athletes. At 19, Arakelov won a gold medal at the 1977 World Junior Championships with a 380kg (165+215) total in the 100kg class. He was invited by Igor Kydyukov, Tean USSR head coach, to train with and then to compete for the national team on the top international level.
In 1978, Sergey won the national title at the 1978 USSR Championships in Kiev, Ukraine and a gold medal at the 1978 European Championships in Havirov, Czechoslovakia and then competed as a backup of legendary David Rigert in the 100kg weight class at the 1978 World Championships in Gettysburg, USA. Both Rigert and Arakelov finished with a 390kg total but Rigert's body weight was lighter and Arakelov marked his debut at the Worlds with a silver medal.
In 1979, Arakelov won a silver at the USSR Spartakiade and USSR Championships in Leningrad and then became a World champion in the 110kg class in Saloniki, Greece. Unfortunately, Arakelov wasn't able to compete at the 1980 Summer Olympics in Moscow because of the injury. After the Olympics, Sergey started another trip to the top level of this sport. He won bronze medals at the USSR Championships in 1981 and 1982 and won gold medals at the 1982 World and European Championships in Ljubljana, Yugoslavia. However, soon afterwards, he was injured again and that was the end of his remarkable pursuit of medals and titles in Olympic weightlifting.
In his Olympic weightlifting  career, Arakelov managed to set 6 world records (3 in snarch, 2 in cj and 1 in total). His personal best competition results were 400kg (177.5+222.5) total in the 100kg class (May 1981) and 427.5kg (190+237.5) total in 110kg class (September 1982).