19-Year-Long Beard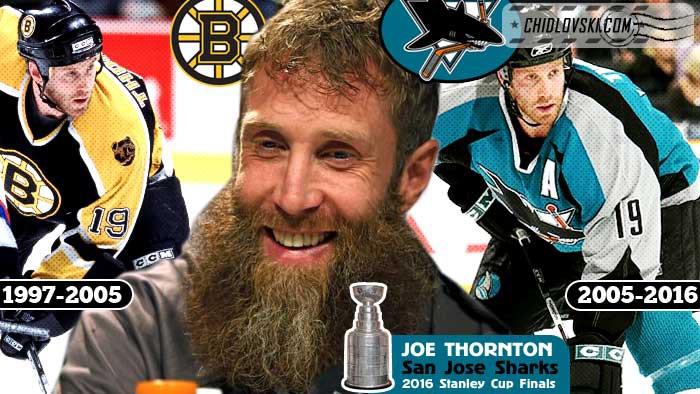 It's nice to see Joe Thornton challenging to win the 2016 Stanley Cup with the San Jose Sharks.
His colorful look in this playoffs features a "19-year-long beard".
That's right. Joe "Jumbo" Thornton began his NHL career 19 years ago when he was selected first overall by the Boston Bruins in the 1997 NHL Entry Draft. He played with the Bruins in 1997 -2005. In November 20o5, he was traded to San Jose.
During his career won various major trophies and titles but never the Stanley Cup:
NHL
Played in the NHL All-Star Game in 2002, 2003, 2004, 2007, 2008 and 2009 (captain).
Won the Art Ross Trophy in 2006.
Won the Hart Memorial Trophy in 2006.
Named to the NHL First All-Star Team in 2006.
Named to the NHL Second All-Star Team in 2003 and 2008.
International Hockey
Won the World Junior Championships gold medal with Team Canada in 1997.
Won the World Cup of Hockey with Team Canada in 2004.
Won the 2010 Winter Olympics gold medal with Canada.
This year he is got to the closest position to hold the Cup.
For those who followed Joe "Jumbo" Thornton playing in the Bean Town in the the early 2000's and for the fans of the Bruins, it might be a good time to cheer up for one of the most prominent alumni of the Bruins team in the 2016 Cup Finals.
The first game starts in 8 minutes. Are you ready for the finals?
Save