Club 500: Vladimir Golovanov (USSR)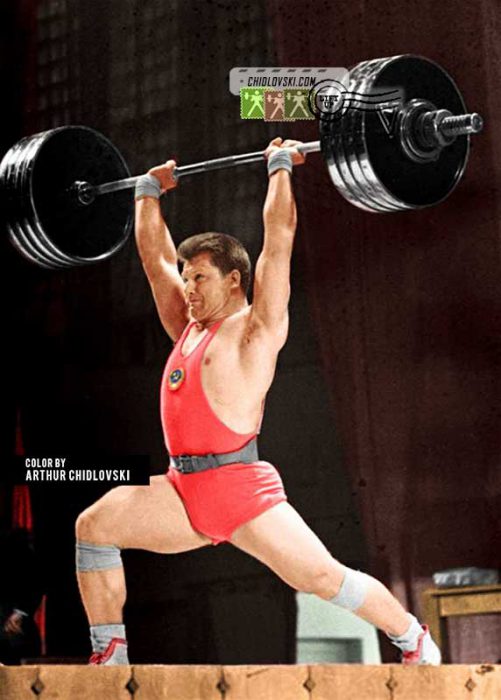 History in Color:
July 18, 1964, Kiev, Ukraine, USSR –25-year old middle heavyweight  Vladimir Golovanov of the Army Club, Khabarovsk, Russia wins the 1964 USSR Championship title in the 90kg class with the world record of 485kg in total (162.5+140+182.5)
A year before, at the 1963 USSR Championships and Spartakiade in Moscow, Golovanov took the 6th Place and his total was 457.5kg (155+130+172.5). He added 27.5kg in a year and won the first national title in his weightlifting career. A few month later, Golovanov competed for the Team CCCP at the 1964 Summer Olympics in Tokyo, Japan and won the Olympic title in the middle heavyweight class with 487.5kg (165+142.5+180).
Vladimir Golovanov (1939-2003) is one the legends of the Soviet and World Olympic weightlifting. He was an Olympic, World and European champion (all in 1964), 2x USSR champion (1964, 1969) and author of 6 world records and 12 USSR records.
In terms of the prestigious international Club 500, Vladimir Golovanov is ranked as #24 on the all-time listing with 565kg in total. He reached this outstanding total when he pressed 108kg, snatched 160kg and cj'd 207.5kg and won a bronze medal in the heavyweight (110kg) class at the 1972 USSR Championships in Tallinn, Estonia.