John Terry (USA): The First Black American Weightlifter to Represent the U.S. at the Summer Olympics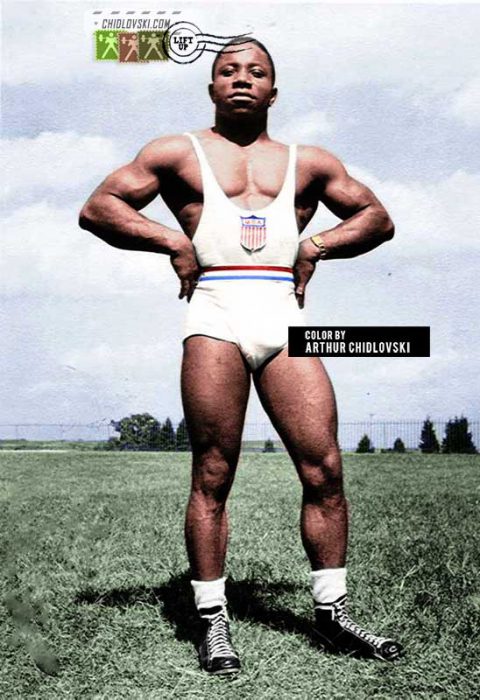 The cover photo of the History in Color series features a color version of a portrait of legendary John Terry who became the first Black American weightlifter to compete for the United States at the Olympics. It happened in 1936 when John Terry won the 7th place in the featherweight class at the Summer Olympics in Berlin.
John Terry was born on December 20, 1908 in Pittsburgh, Pennsylvania and, most of his career, he competed for the York Barbell Club, a notorious American weightlifting powerhouse of the Golden Age of American Weightlifting. Terry was a 4x Senior National Champion (1938–1941) and 2x Senior National Vice Champion (1934, 1936).
He reached the elite level in  Olympic weightlifting in the late 1930s and was a 2x U.S. Olympian in 1936 and 1940. Due to the World War II, the 1940 Summer Olympics tournament was cancelled. By  all means, his best Olympic performance would have been 1940, as John be became the king of the featherweight class with 4 AAU titles and set an impressive world record for the deadlift with 610 lbs (272 kg) in the 138lb (60kg) class which still is considered one of the greatest ever at the deadlift, pound-for-pound.
During World War II, Terry served in the US Army for about one year. After his service he returned to York, Pennsylvania where he owned a café and worked for the York Barbell Company. Later on, John Terry opened a gym to teach youth weightlifting.
The first Black American Olympian in weightlifting, John Terry died on April 17, 1970 in High Point, North Carolina.