Mihaly Huszka (1933-2022)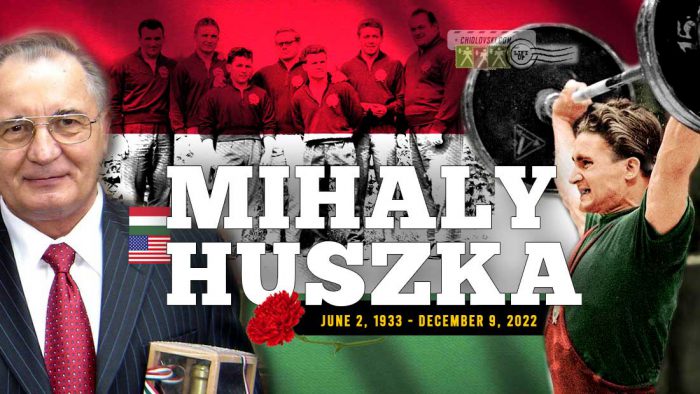 Sad news arrived last Friday from Houston, Texas, USA. Legendary Olympic weightlifter and coach Mihaly Huszka passed away at 89.
Mihaly Huszka was one of the athletes from world famous group of Hungarian lifters in the 1960s that became known as "Magnificent Seven". They brought Team Hungary weightlifting to the top lists in the world. Besides Huszka, the Magnificent Seven team included such remarkable champions as Imre Foldi and Robert Nagy, Gyozo Veres and Geza Toth, Ecser Karoly and Arpad Nemessany.
Mihaly Huszka competed in the lightweight and middleweight classes and represented Hungary at two Summer Olympic Games and earned 6th places both in Rome (1960) and in Tokyo (1964). In between these Olympics, he also became a 2-time World and a two-time European vice champion in 1962 and 1963.
After the 1964 Summer Olympics in Tokyo, Mihaly Huszka  moved to the United States where he launched a very successful coaching career and prepared a number of athletes for the U.S. national team. There were 6 Olympians, 15 international competitors, 34 national champions, 20 national record holders and one world record holder on the list of his students. In 2012, he returned to Hungary.
Competing for the U.S.A. and Hungary, Mihaly won 22 world masters championships in his age groups and continued to compete up until he was 85.
For the past few years Mihaly has been living in Texas and recently moved to Houston where he passed away. He had been battling a rare neurological disease Progressive Supranuclear Palsy (PSP) that affects the brain, balance, speech, and swallowing. Up until the last day he had healthy appetite until the disease took him in his sleep.
We are sending our deepest condolences to the family and close friends of Mihaly Huszka.
Rest in Peace, Legendary Champion. You will always be in the hearts and memories of true followers of the Iron Game.