Karl Swoboda (Austria): Strong in the 1900s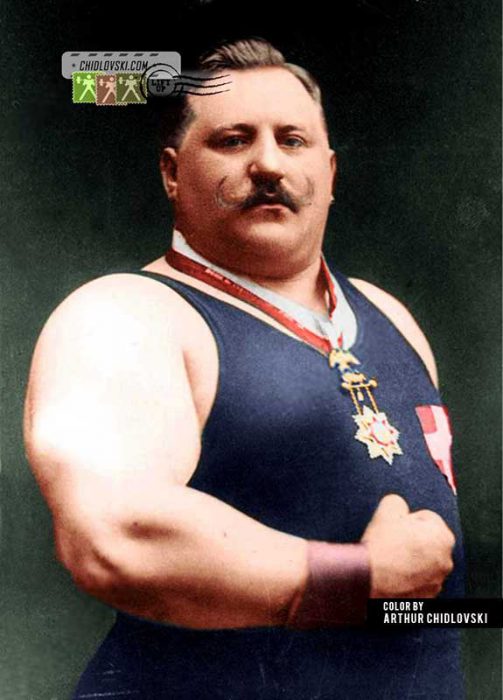 History in color:
Karl Swoboda (1882-1933) of Austria was one of the most prominent heavyweight strongmen of the pre World War 2 era in weightlifting. He held numerous world records set before the international weightlifting federation was established in 1920. He authored such world records as a 170kg two-hand press, a 101kg one-hand press and a 195kg jerk.
Karl Swoboda was born in Vienna in a German family. He began weightlifting at 16 while working as butcher apprentice in a railway station restaurant. At 26, Swoboda was 177cm tall and his bodyweight was 120kg. He opened his own "beer garden" restaurant not far from the Alter Vienner Club where he trained in weightlifting. His restaurant was one of many places in Vienna where big guys with curled mustaches were lifting heavy weights with deep gulps of beer between lifts. Gradually, Karl became bigger and stronger and reached over 150kg bodyweight at his prime. In 1911 he won 2 world championships (out of four held that year!). His total in 4 lifts at the 1911 World Championships in Vienna was 477,9kg (left hand snatch 76.3kg, right hand 86.3kg, two hand press press 150.3kg and two hand jerk 170 kg).
Like most of the strongmen of that time in Germany and Austria, Karl Swoboda used the so-called "continental" style in lifting. Prior to 1920, when the international weightlifting federation was created, the sports tournaments lacked consistent scheduling, officiating, techniques and equipment. There were two distinct schools of lifting – Continental and French. The Federation chose the French style and ruled out the continental style used by many oldtime strongmen from Germany, Austria and other Central European nations in the 1900s.
New times brought new heroes.
Giants like Wilhelm Türk, Josef Steinbach, Josef Grafl or Carl Swoboda, the cover hero from the History in Color at Lift Up, stay big and colorful on their page in the history book of Olympic weightlifting with their curled mustaches, heavy eating, drinking and lifting in bier gardens.