Beach Day in China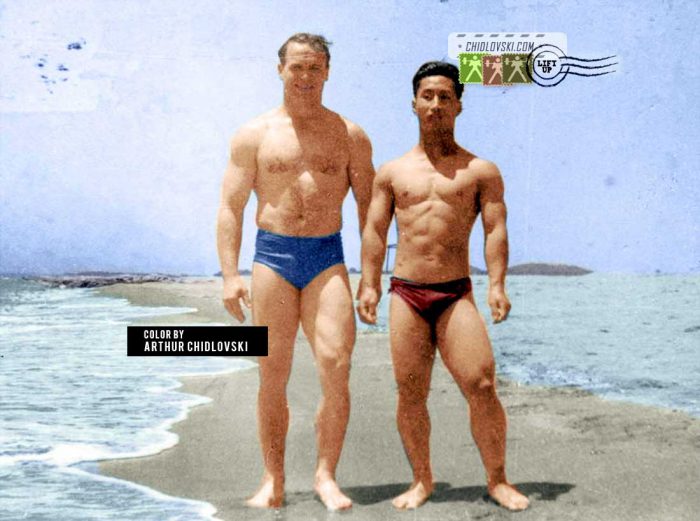 It's hot in Florida.
The forecast for today says 101° F! Stay cool and alert.
The History in Color: cover photo depicts two remarkable athletes of the old-time weightlifting classics, Vladimir Pushkarev (USSR) and Jingkai Chen (China) at one of the beaches in China. The photo was made in the late 1950s – early 1960s, when major Soviet weightlifting experts helped Chinese athletes with training and preparing for competitions during the early years of the development of this sport in their country.
Legendary Jingkai Chen (1935-2010) competed in the bantam and featherweight and set numerous world records. In fact, he was the first weightlifting world record holder of China and the favorite of Chairman Mao and weightlifting fans in the country.
Vladimir Pishkarev (1921-1994) was among the main Soviet weightlifting consultants sent to China. As an athlete, Pushkarev was one of the top Soviet contenders in the middleweight the from the late 1940s to mid 1950s. He was a 4x USSR champion I1949, 1951, 1952, 1954), 4x USSR vice champion (1946, 1948, 1950) and a bronze medalist in 1953. He was a national record holder in the cj lift. After retirement from competing as an athlete, Vladimir Pushkarev switched to the coaching career and had a very impressive success as a head coach of the Dynamo club in Moscow. He prepared such world class champions and record holders as Vladimir Ryzhenkov, Yury Kozin, Valery Yakubovsky and many more.
With an outstanding performance of Chinese weightlifters recently at the 2021 Summer Olympics in Tokyo, it might be a good time to bring into the spotlight magnificent pioneers of this sport in China. Two decades before China became an official member of the International Weightlifting Federation, early athletes of China like Chen Jingkai began to pave the road to current success of Chinese Olympic weightlifters.

**** Important Notice:
Please note that you don't have to grab a local chef from a Chinese restaurant to improve your weightlifting results. The photo is intended for historical purpose only.