Going for the World Records in Press in 1968, Part 3: Kaarlo Kangasniemi (Finland)
With 3 months left to the Olympic tournament in Mexico City, three outstanding pressers managed to set world records in the mid heavyweight (90kg class) .
Part 1. June 3, 1968, Rattvik, Sweden – WR Press (172.5kg) by Bo Johansson (Sweden)
Part 2. June 25, 1968, Riga, Latvia, USSR – WR Press (175kg) by Karl Pumpurins (Latvia, USSR)
Part 3. July 27, 1968, Pori, Finland – WR Press (175.5kg) by Kaarlo Kangasniemi (Finland)
---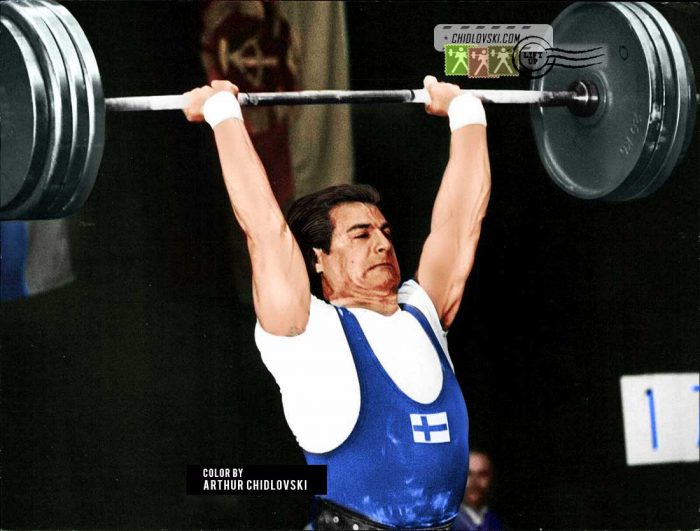 History in Color:
July 27, 1968, Pori, Finland – 27-year-old Finnish middle heavyweight Kaarlo Kangasniemi presses 175.5kg  and sets a new world record in the 90kg weight class in front of a home crows in Pori.
This time the record was set to stay till the Olympics in Mexico City and on October 18, 1968, Kaarlo Kangasniemi became the first Finnish athlete ever to win the Olympics in weightlifting!
He went 6 went 6 for 6 in the first 2 lifts and, before the clean-and-jerk finale, reached a solid +20kg advance over Jaan Talts of Team USSR, his closest opponent for the 1968 Olympic gold in Mexico City. His winning total was  517.5kg (172.5+157.5+187.5)!
---
Olympic champion Kaarlo Kangasniemi (born in 1941) of Pori, Finland is a true legend of Olympic weightlifting. 3x Finnish Olympian, author of 17 world records, Kaarlo Kangasniemi was literally on the top of the world in the middle heavyweight from late 1960s to mid 1970s. He won the 1968 Summer Olympics in Mexico City, the World titles in 1968 and 1969 and the European titles in 1969 and 1970.