Sergey Eliseev and Georg Hackenschmidt: Early World Class Weightlifters From the Russian Empire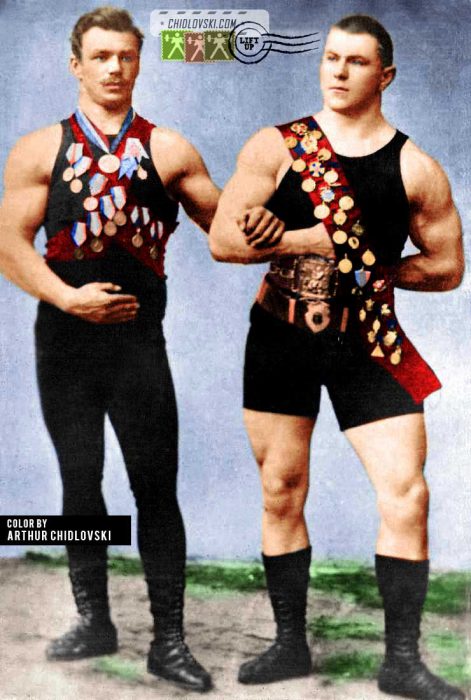 Our History in Color cover features Sergey Eliseev (left) and Georg Hackenschmidt, two of the most distinguished weightlifting athletes from the Russian Empire in the late 1890s and early 1900s. That era of the Iron Game history very seldom had strong athletes specializing purely on weightlifting. Most of the athletes were involved in wrestling, lifting, tug-of-war, circus acts and many other activities where they were demonstrating their strength and physique.
From the prospective of Olympic weightlifters, it was Eliseev and Hackenschmidt who earned the first international recognition for Russia in early weightlifting world championships.
Georg Hackenschmidt (1877-1968) needs no special introduction for the fans of the Iron Game. Nicknamed later as the "Russian lion", he was a world famous professional strongman, wrestling champion and strength propogator,  philosopher and educator. As a weightlifter, 21-year old Hackenschmidt won a bronze medal at the 1898 World Weightlifting Championship in Vienna.
Sergey Eliseev (1876-1937) won a gold medal at the 1899 World Weightlifting Championship in Milan where, being the lightest contender (92.2kg), he jerked 86.8kg (right hand) and 143.3kg (two hands) and pressed 116.7kg. At the 1903 World Weightlifting Championship in Paris, Eliseev won a silver medal.