Igor Kalashnikov: World Record in Press in Tallinn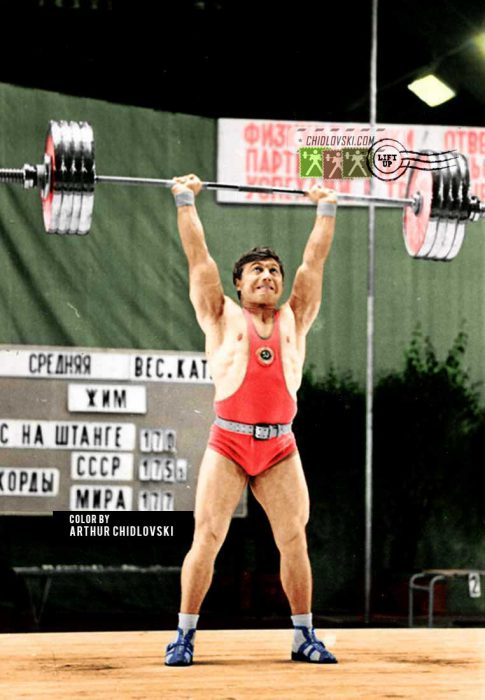 April 13, 1972, Tallinn, Estonia, USSR – 26-year old light heavyweight Igor Kalashnikov of the Moscow Dynamo club is on his way to win the 1st place and set a new world record in the press program in the 82.5kg class at the 1972 USSR Championships in Tallinn.
The 82.5kg was a weight class where several Soviet world class contenders were seeking to secure a place on the national team to compete at the upcoming 1972 Olympics in Munich. The medalists at the last national championship before the Olympics were:
1. Boris PAVLOV, Spartak Donetsk 515 = 170+150+195
2. Gennady IVANCHENKO, Dynamo Riga 510 = 170+145+195
3. Vladimir RYZHENKOV, Dynamo Moscow 507.5 = 170+152.5+185
Igor Kalashnikov took the 4th place with a personal best in total of 495kg (177.5+137.5+180).
While all three medalists in total ended the press at 170kg, Kalashnikov went on to set an outstanding world record in the press 177.5kg!
Graduate of the Dynamo weightlifting school in Moscow, Igor Kalashnikov was one of the best lifters in the 82.5kg class. He earned two bronze medals at the USSR Championships in 1974 and 1975. He also won a bronze medal at the 1975 USSR Spartakiade with his official personal best total in 2 lift – 342.5kg (150+192.5) in Vilnus, Lithuania.