Karl Pumpurins (USSR, Latvia): Before the Lift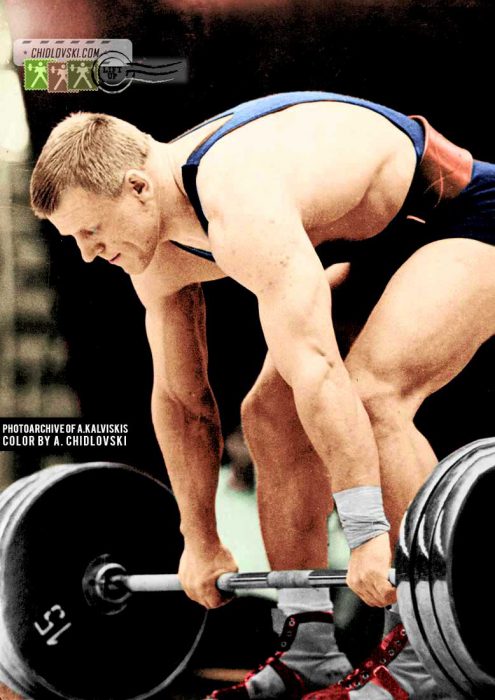 History in Color:
Riga, Latvia, USSR, 1966 – Legendary Olympic weightlifting presser Karlis Pumpurins of the Dynamo Riga club is getting ready to start the lift at a local tournament in his hometown Riga.
With the sunset of Olympic press lift in 1972, there was a definite change in the look of Olympic weightlifting contenders at the major competitions. Many bulky "muscle machines" of the press era had to either re-adjust their gears for dynamic lifts only or even retire from the elite competitions.
There are different views on whether the press should have stayed or not but it's very nostalgic to see the photos of magnificent and powerful pressers of the past. One of them was Karl Pumpurins who was famous for his impressive physique and mighty press lifts in the competitions.
Karlis Pumpurins (b. 1941) was one of the graduates of Michael Freifeld's weightlifting club Dynamo in Riga.  Pumpurins wasn't a poor technician overall but his strongest lift was definitely the Olympic press. In the late 1960s, he set 4 world records in the press in the 90kg weight class. Legendary Yury Vlasov used to call Karlis as "a real deal".
Pumpurins went on to win two USSR Cups in 1970 in the 110kg class. He was the national champion of the USSR in the clean-and-jerk (1970) and press (1970).