Louis Martin (Great Britain): Winning the 1st World Title in Warsaw (1959)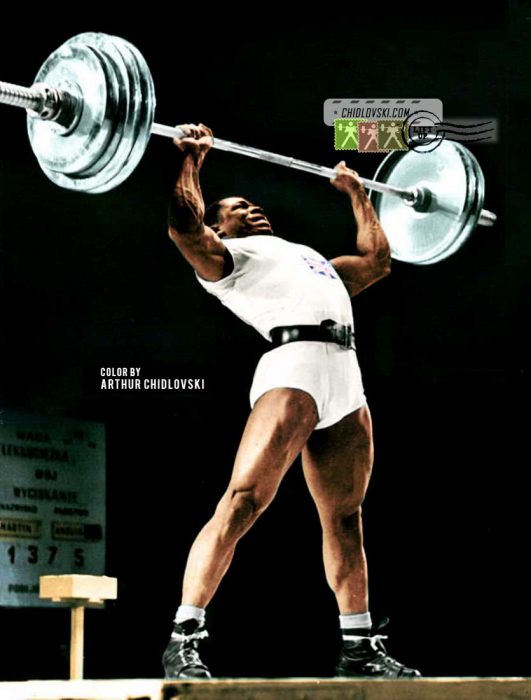 History in Color:
October 3, 1959, Warsaw, Poland – Mid heavyweight Louis Martin, 23-year old rookie lifter of Team Great Britain, presses 137.5kg on his way to the gold medal in the 90kg weight class at the 1959 World and European Championships in Warsaw.
In his first big time appearance for Great Britain at the Worlds, 23-year old rookie Louis Martin was facing one of the most dangerous opponent a rookie athlete could have been dreaming of – Olympic champion Arkady Vorobyev of Team USSR. Vorobyev was 12 years older and two Olympics more experienced than Martin.
After the press competition, Martin was 2.5kg behind the Soviet champion. Vorobyev beat Martin by another 2.5kg in the snatch and before the final lift of clean-and-jerk, Vorobyev was 5kg ahead of his young opponent.
However, in the cj, Martin outlifted Vorobyev by 5kg and both ended up with 445kg and the gold went to the British rookie because his bodyweight was lower. It was the first World and European title that legendary Louis Martin won in his remarkable career.
By all means, Louis Martin (1936-2015) was the best British athlete in the history of Olympic weightlifting. He won 4 World championships (1959, 1962, 1963, 1965), 4 European championships (1959, 1962, 1963, 1965), 3 Commonwealth Games (1962, 1966, 1970) and set 2 world records in his career. At the Summer Olympics, Martin won bronze in 1960 and silver in 1964.