Nail Mukhamedyarov: National Championships in 1989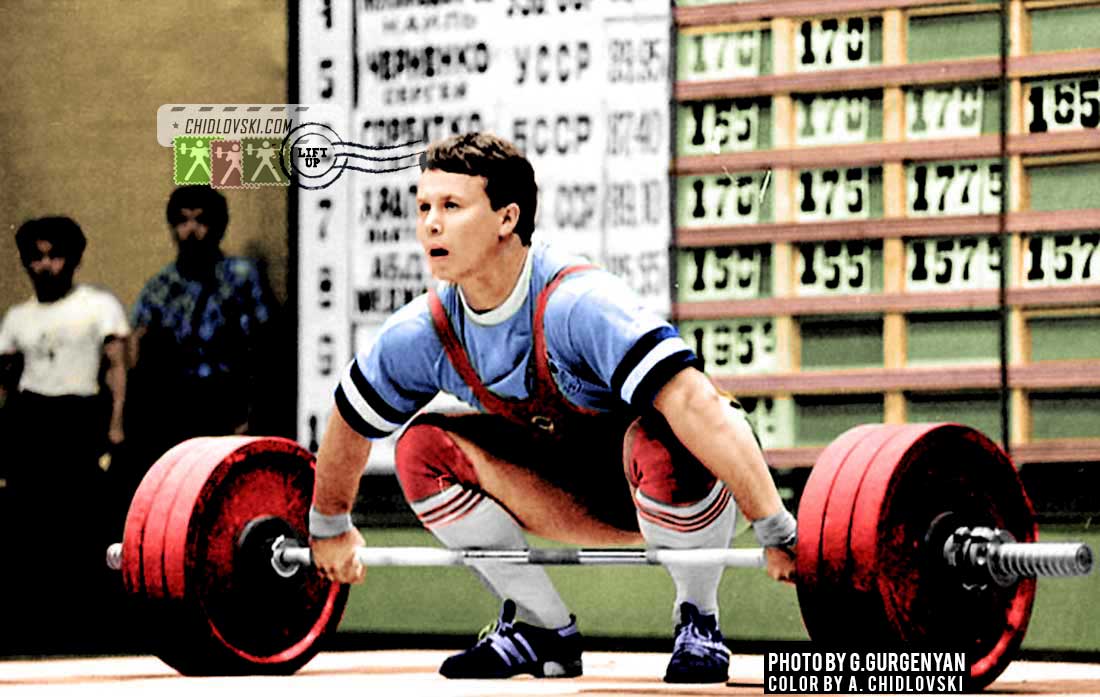 Note: December 8, 2018 – Olympic vice champion Nail Mukhamedyarov turns 56. Congrats and best wishes to the Champ!
History in Color:
July 6, 1989, Frunze, Kyrgyzstan – Olympic vice champion Nail Mukhamedyarov of Team Uzbekistan competes in the middle heavyweight at the 1989 USSR Champiohships in Frunze.
Nail Mukhamedyarov (b. 1962) was one of the strongest Soviet middle heavyweights of the late 1980s. He competed for Team USSR at the 1988 Summer Olympics and won a silver medal in the 90kg class with a total of 400kg (177.5+222.5). He also won a silver medal at the 1990 World Championships in Budapest.
Nail Mukhamedyarov won a gold (1988) and 3 silver medals (1985, 1990, 1991) at the USSR Championships and became a vice champion at the 1991 USSR Spartakiade in Donetsk. He won the 1986 USSR Cup and won a gold USSR Championships medal in the clean-and-jerk in 1986.
His personal best results in total were:
82.5kg class – 375kg (165+210, July 4, 1986, Lipetsk, Russia)
90kg class – 402.5kg (182.5+220, July 2, 1988, Kharkov, Ukraine)
100kg class – 410kg (180+230, September 8, 1990, Lipetsk, Russia)