Trofim Lomakin Wins His 1st National Title (1952)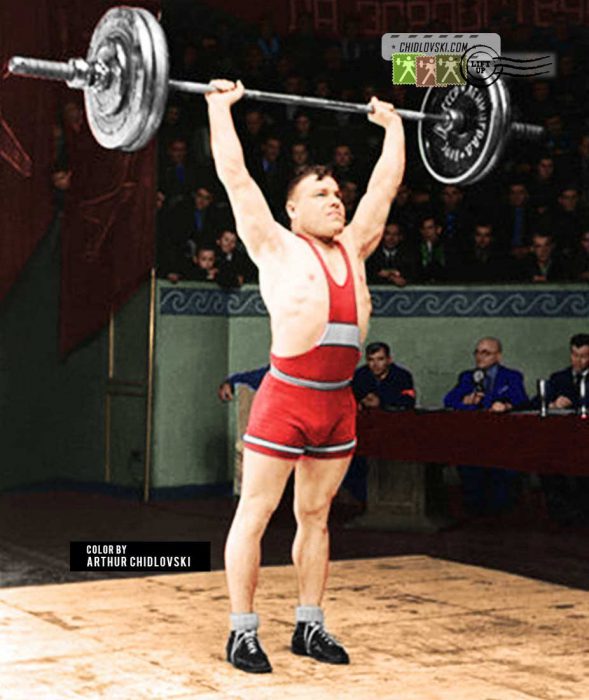 March 30, 1952, Ivanovo, Russia –28-year old Trofim Lomakin competes for the Army Club of Moscow competes in the 90kg weight class at the 1952 USSR Championships at the State Circus Arena in Ivanovo.
In Ivanovo, Lomakin won his first national title. Three months later, he won a gold medal at the 1952 Summer Olympics in Helsinki.
All together in his career, Trofim Lomakin won 5 gold medals at the USSR Championships  – in 1952, 1953, 1955, 1957 and 1960.
Lomakin was perhaps one of the most memorable personalities among the Soviet Olympic weightlifters in the 1950s.
Lomakin won the gold medal at the 1952 Summer Olympics in Helsinki and the silver medal at the 1960 Olympics in Rome. He earned many World and European titles and he managed to win many Soviet national championships. He broke 5 world records in his career. For those who are interested in his career track and results, we have his detailed profile at the Lift Up.
With all these said, Lomakin was extremely strong by nature. His strength and physique was reflected in many stories and accounts.
At the same time, Lomakin showed amazingly little interest in daily training and development.  Life outside the gym was far more important for him than working out for the competitions and adding weights pound by pound.
His life ended tragically at 49 when he was murdered at the horse racing track in Moscow in 1973.