Vartan Militosyan: Cameraman in the Training Camp (1977)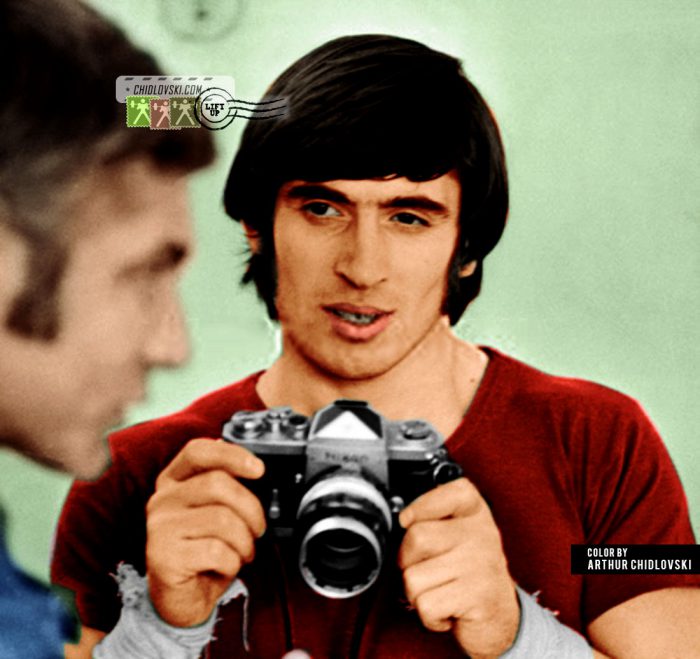 June 13, 2019 – Olympic vice champion Vartan Militosyan (1950-2015) of Armenia would have been 69 today. Happy Birthday to the great champion!
The History in Color series features Vartan Militosyan as a cameraman in the training camp of the Soviet national weightlifting team in 1977.
Today, the analog cameras of that time might look as an antique artifact of the past.
No fancy digital DSLR optics or miniature smartphones.
No memory sticks. No selfies.
No Facebook. No instant photo publishing on Instagram.
It's a black-and-white photo of 1977 with a color of 2019!
And it's an ageless glory of a great weightlifting champion!
---
Vartan Militosyan (1950-2015) was one of the best middleweight athletes in the World in the second half of the 1970s.
His personal best total was 345kg (150+195) reached in the 75kg class in 1977.
He was an Olympian and won a silver medal in the 75kg class at the 1976 Summer Olympics in Montreal.
It was a historical moment – on July 22, 1976, Militosyan became the first Olympic weightlifter of Armenia to win an Olympic medal!
Militosyan was also a 2x World vice champion (1976, 1978), 2x European Champion (1976, 1978), USSR Cup Winner (1977) and USSR Championships (1975, 1979) medalist in the middleweight.
In his career, Vartan Militosyan authored 4 world records in the 1970s.