Oxen Mirzoyan (Armenia, USSR): Moscow, 1983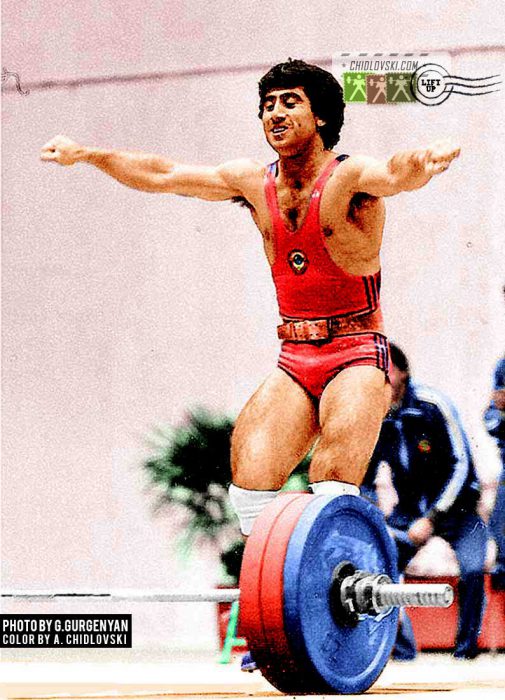 June 11, 2019 – Happy 58th Birthday to Oxen Mirzoyan of Armenia!
October 23, 1983, Moscow, Russia – 22-year old bantamweight Oxen Mirzoyan of Team USSR celebrates a new world record in the 56kg weight class at the 1983 World Championships in Moscow.
It was a fascinating night for Oxen Mirzoyan, indeed. He broke world records in the clean-and-jerk (165kg) and total (292.5kg) and won the World title in the 56kg class.
Mirzoyan (born in 1961) was an Olympic champion (1988), World and European champion (1983), USSR champion (1982, 1983, 1988, 1991), USSR Spartakiade champion (1983, 1991), gold medalist of the USSR Cup (1981, 1982, 1985), USSR champion in the snatch (1979, 1981, 1982) and the cj (1981, 1982, 1985) lifts. He set 12 world records.
At the 1983 World championship, Oxen outlifted future "Pocket Hercules", rising star of Bulgarian weightlifting, 16-year old  Naim Suleymanov.
Needless to say, Naim Suleymanoglu (formerly known as Suleymanov and Shalamanov) very seldom lost in top tournaments. In fact, here is the list of tournamrnts where he didn't win gold medals:
WC 1983 – 2nd Place (Mirzoyan – gold);
EC 1992 – 2nd Place (N. Peshalov – gold);
EC 2000  3rd Place (N. Peshalov – gold, S. Minchev – silver)
And then, of course, there was this big battle between Naim and V. Leonidas of Greece at the 1996 Olympics. Suleymanoglu won but was a very hard win.