Vitaly Danilchenko: The First Soviet Junior World Champion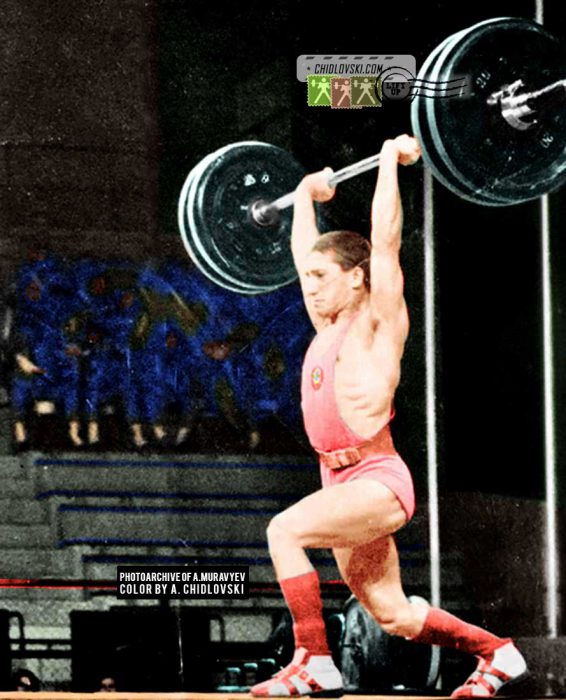 Marseille, France, 1975 – Soviet junior flyweight Vitaly Danilchenko of Mariupol (Zdanov), Ukraine performs a clean-and-jerk lift at the 1975 Junior World Championships in Marseille.
Vitaly Danilchenko (born in 1956) is a milestone athlete in the history of Soviet and World Olympic weightlifting.
He was the first Soviet athlete who managed to win the gold at the Junior World Championships. It happened in 1975 when an 18year-old flyweight Danilchenko won a gold medal in the 52kg class with a 205kg (90+115) total.
Since it was the first Junior World Championships tournament ever, besides being the first Soviet junior world champion, Vitaly was the first world champion overall. A year later, Vitaly Danilchenko represented Team USSR at the 1976 Junior World Championships and won a silver medal in the bantamweight class.
Here is the list of the 1975 Junior World Champions:
52 kg –     Danilchenko, Vitali, URS –  205kg
56 kg-      Dembonczyk, Tadeusz, POL – 240kg
60 kg –     Memish, Nasuf, BUL – 247.5kg
67.5 kg –  Taskov, Rumen, BUL – 287.5kg
75 kg –     Vardanyan, Yurik, URS – 325 kg
82.5 kg –  Belichovsky, Khristo, BUL – 330kg
90 kg –     Saidulaev, Adam, URS – 350kg
110kg –    Khristov, Valentin, BUL – 405kg
110+kg –  Skolimowski, Robert, POL  355kg