Yury Vlasov (USSR, Russia): "Veni, vidi, vici" (Stockholm, 1963)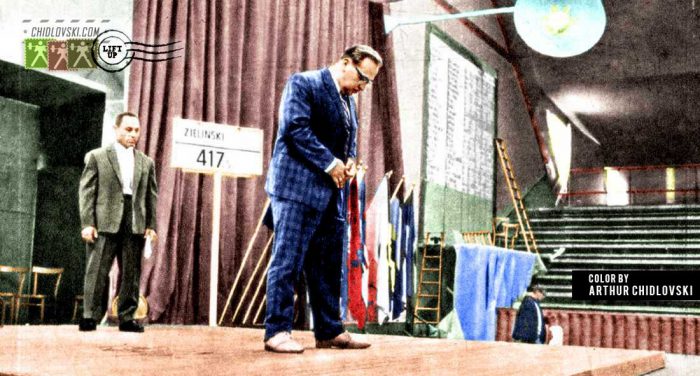 Veni, vidi vici
Julius Caesar, around 47 BC
History in Color:
September 9, 1963, Stockholm, Sweden – Legendary Soviet heavyweight Yury Vlasov and his coach Suren Bogdasarov inspect the competition platform upon arrival to the 1963 World Championships in Stockholm.
The "Veni, vidi, vici" phrase in Latin was said by Julius Caesar after he achieved a quick victory at the Battle of Zela around 47 BC. It means "I came. I saw. I conquered."
At the 1963 World Championship in Stockholm,  Olympic champion and the strongest man in the world at the time Yury Vlasov won his 4th world title with the 557.5kg (187.5+160+210) total. He set 3 word records  – in the clean-and-jerk (212.5kg) and two records in total.
Veni, vidi, vici…
---
Back to Search Tournaments