Now and Then (1972-2016): The Rivalry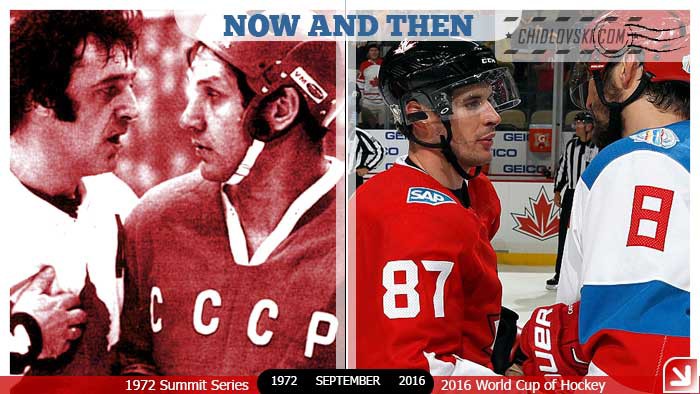 The Canada vs. Russia hockey games are the biggest hockey rivalry with a long history.
Times are different with over 4 decades past the 1972 Summit Series.
In 1972, it was a prime time of the Cold War.
For Phil Esposito, it was a war. He and his teammates hated their opponents.
Bobby Clarke deliberately injured Valery Kharlamov. Today, the Slash episode is a dividing point between Team Canada 1972 players as the lowest point of the series. Back then, it was part of the effort to come back from loosing to the Soviets in the series.
Pete Mahovlich assaulted the Soviet police officers with a hockey stick when he saw Alan Eagleson being escorted from the Luzhniki Arena.
Who will raise their hockey stick today to release the "Eagle" from the law enforcement today? Stan Mikita said a few years ago that they should have locked him up in Moscow and threw the keys away forever.
Things are different now.
Today Russians are playing in the NHL. Canadians are playing in the KHL.
Sydney Crosby has been playing with Yevgeny Malkin for years in Pittsburgh. Tonight he is playing against him in the semifinal game of the 2016 WCH in Toronto.
It ain't a war anymore. It is an on-ice rivalry.
The cover photo of the rivalry in 1972 is the battle between Phil Esposito and Alexander Ragulin. Two big men that didn't know each other before the 1972 Summit Series. They are on the edge. They might kill each other. No doubts.
The cover photo of the rivalry today is Sydney Crosby vs. Alex Ovechkin.
It was two best players in the world in their rookie season competing for the Calder Trophy.
It's Pittsburgh Penguins vs. Washington Capitals.
It's a contest for the Art Ross Trophy.
But it's not a live-or-die war on the ice anymore.
Team Canada is facing Team Russia tonight.
It's one of the most exciting hockey rivalries in the history of sports.
Save
Save