Unsung Heroes: Alym Achichaev (USSR, Russia)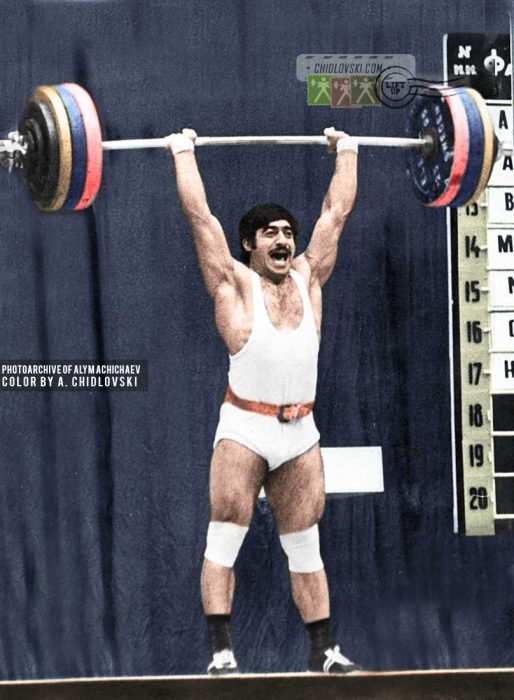 History in Color:
December 14, 1975, Chelyabinsk, Russia –Sub heavyweight Alym Achichaev of Team Trud (Rostov, Russia) wins the USSR Cup with a 370kg (162.5 + 207.5) total in the 100kg weight class in the Yunost Sports Arena in Chelyabinsk.
Alym Achichaev was one of the best Soviet athletes in the 100kg weight class in the late 1970s. He won the USSR championship in 1976, the USSR Cup in 1975 (on the cover photo) and held the title of the national champion in the snatch lift (1976, 1977) and in the cj lift (1975).
Besides his impressive presence on the weightlifting platform, Alym Achichaev is a historical figure. He was the first Chechen Olympic weightlifter to become the USSR champion.
It took place in 1976 in Karaganda when Achichaev won the national title with the total of 380кг (172.5+207.5). When he put down the 207.5kg down in the cj lift in Karaganda and realized that he won the USSR title, happy Alym did an unprecedented thing on the stage – he went on with a national lezginka dance right on the stage.
Needless to say, he was coached by legendary Rudolf Plyukfelder in Rostov. Before Rudolf began to train Alym Achichaev, he had a bet with his fellow coaches:
"Rudolf, you are a great coach, but you should agree that everybody can make a super champion out of a talent like David Rigert. Can you do the same with someone less promising? How about this guy?"
The story says that Plyukfelder looked at the athlete who was lifting on the platform at the time and didn't look like a special case at all. It was Alym Achichaev from Khabarovsk. Plyukfelder took the challenge and brought Alym Achichaev to the national title and made him a solid candidate to the national team a few years later.