Weightlifting Match in Budapest (1950)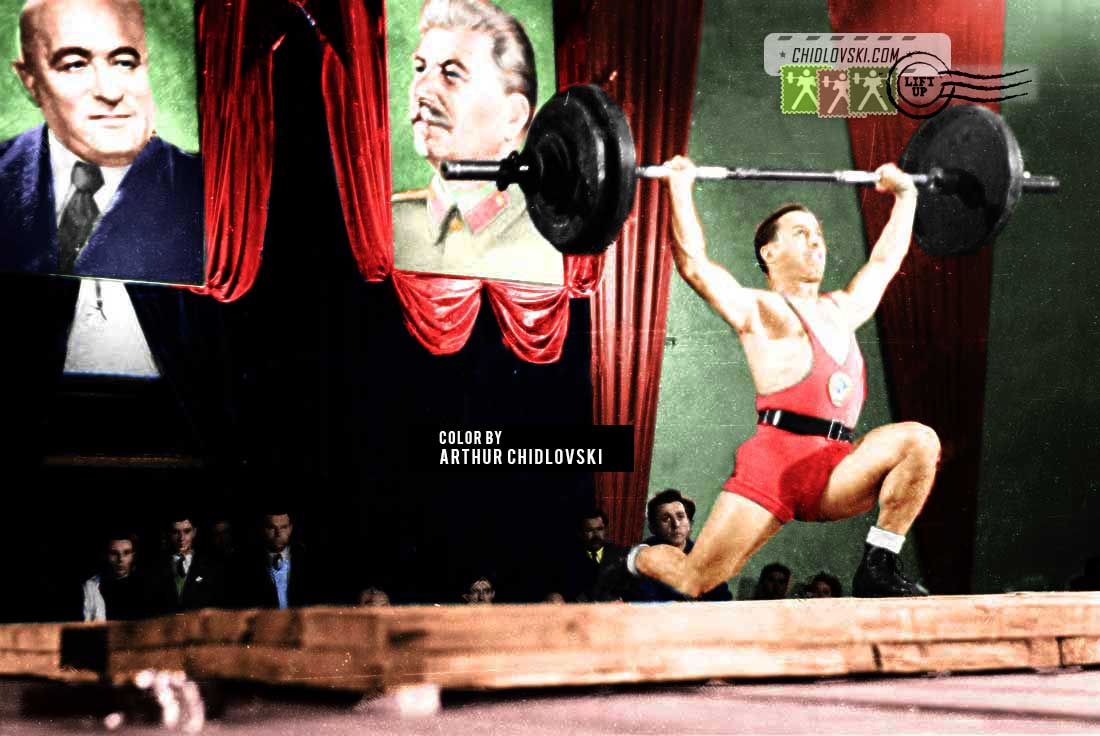 March 1950, Budapest, Hungary – Weightlifting match between Hungary and the Soviet Union is being held in the Budapest Sports Hall.
The weightlifter performing a split style snatch on the platform is a lightweight Vladimir Svetilko of Team USSR. His teammate Yevgeny Lopatin, assisting Svetilko in the tournament, can be seen next to the competition platform in the back. Also in the back, there are portraits of the Communist leaders, Joseph Stalin (USSR, right) and Matias Rakosy (Hungary), typical entourage of the era. One might think that after watching from the wall so many split snatches and cleans in the competition, both could have become super experts on weightlifting techniques. Highly doubtful, though.
---
Vladimir Svetilko (1915 – 1996) competed for the Army Club of Batumi, Georgia and the Dynamo Club of Tbilisi, Georgia.
Svetilko was a very strong lightweight athlete. From 1943 to 1951 he was consitently winning medals of the national championships (except 1947). He won 4 gold medals in 1948-1951, silver medal in 1946 and bronze medals in 1943-1945.
Vladimir Svetilko was one of the Soviet pioneers on the international weightlifting arena. At the first World Championships with the Team USSR Weightlifring (Paris, 1946), Svetilko won a silver medal. Then, in 1950, he won a bronze medal at the Worlds and a gold at the Europeans in Paris again.
Vladimir Svetilko set a world records in the press in 1950.