Go USA Weightlifting Marathon: Team USA Goes To Europe (1938)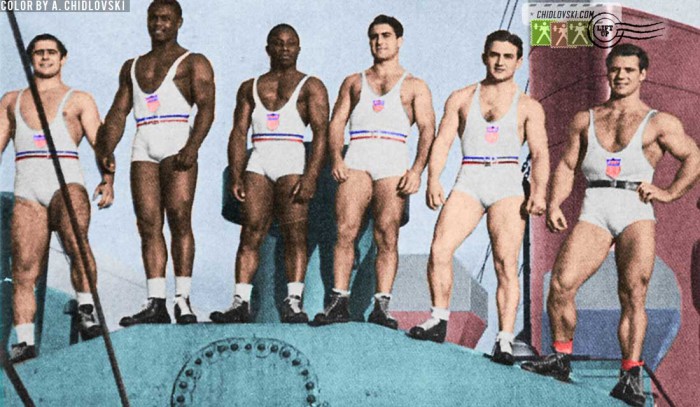 The 2017 IWF World Championships tournament is scheduled to be held in Anaheim, USA from November 27, 2017 t0  December 5, 2017. With 20 days left to the opening, the Lift Up and our sub-publications are beginning the Go USA Weightlifting Marathon superseries of articles to cheer up the Team USA ang all the fans of the Iron Game who certainly will be following one of the key Olympic weightlifting events of the year.
The History in Color series by Lift Up presents a historical photo of Team USA traveling on the ship to Europe to participate in the 1938 World Championship in Vienna, Austria.
Left to right:
Steve Stanko (82.5+kg, Shore AC, Perth Amboy, NJ), John Davis (82.5kg, Brooklyn, NY), John Terry (67.5kg, Titan WLA, Maspeth, NY), Tony Terlazzo (60kg, York BBC, York, PA), John Terpak (75kg, York BBC, York, PA) and John Grimek (82.5kg, Shore AC, Perth Amboy, NJ)
The 1938 World Championship was the 21st official World championship and the last one held before the beginning of World War II. There were 46 athletes from 7 countries that participated. Team USA was on its way from obscure weightlifting country to the leading weightlifting powerhouse of the upcoming decade.
The list of medalists is presented below. All U.S. lifters made the Top 4 in their classes. Tony Terlazzo (60kg) and 17-year old John Davis (82.5kg) won gold medals. Steve Stanko won a silver medal in the heavyweight class. John Terpak received a bronze medal  in the 75kg.
Team USA took the 2nd place overall:
Germany
United States
Italy
---
Note: To view a complete list of the winners in the weight classes above,
please follow the link associated with the weight class.
Back to Search Tournaments