Team CCCP Weightlifting 1982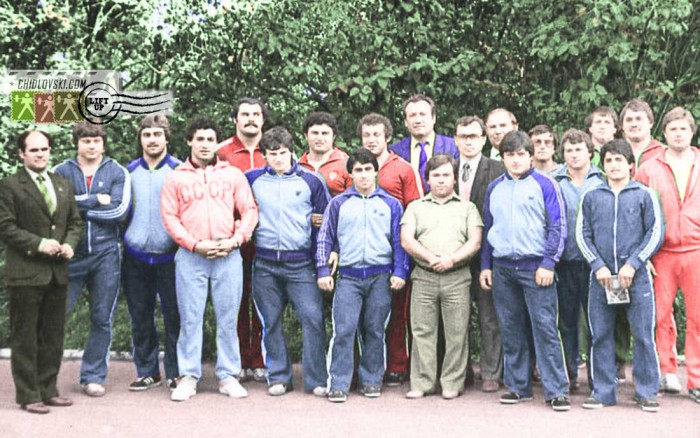 Group shot of the members of Team CCCP before the departure to the 1982 European Championship in Ljubljana.
Left to right*:
Viktor Naumenkov (coach), Yury Zaxarevich (100kg, silver), Sergey Arakelov (110kg, gold), Yurik Vardanyan (90kg, silver), Anatoly Pisarenko (110+kg, gold), Alexander Pervy (82.5kg, silver), Adam Saydullaev, Oxen Mirzoyan (56kg, silver), Viktor Sots (100kg, gold), Nikolay Parkhomenko (Federation/IWF), Alexander Prilepin (head coach), Yury Sandalov (coach), Alexander Rykov (coach), Israil Arsamakov, Gennady Baldin (massage therapist), Vladimir Mikhalev (75kg, bronze), Vyacheslav Klokov (110kg, 2-e mesto), Yury Sarkisyan (60kg, gold), Leonid Kaplun, Valery Kravchuk.
Note: Data after the name show the weight class and the place/medal taken at the tournament for athletes that were selected to compete.