7,232 Miles Away From Mexico City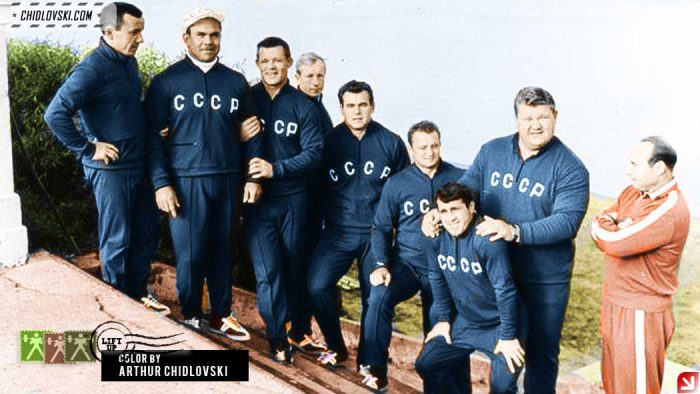 Team CCCP Weightlifting is having a good time at the Volga River.
It's 1968 and they are 7,232 miles away from Mexico City where is a few weeks they will compete at the 1968 Summer Olympics. It's 11,638 kilometers away from this place that was famous for Volga boatmen and their songs.
Team CCCP (L-R):
Gennady Chetin (56kg, Perm), Boris Selitsky (82.5kg, Leningrad), Yevgeny Smirnov (75kg, Leningrad), K. Gromadin (massage therapist), Jan Talts (90kg, Tallinn), Vladimir Belyaev (82.5kg, Kiev), Dito Shanidze (60kg, Tbilisi), Leonid Zhabotinsky (90+kg, Zaporozhye), and Arkady Vorobyev (head coach).

---
Summer Olympics From 1896 To Today
Note: To view a complete list of the winners in the weight classes above,
please follow the link associated with the weight class.
Save