One Year After the Big War: Weightlifting Champions in 1946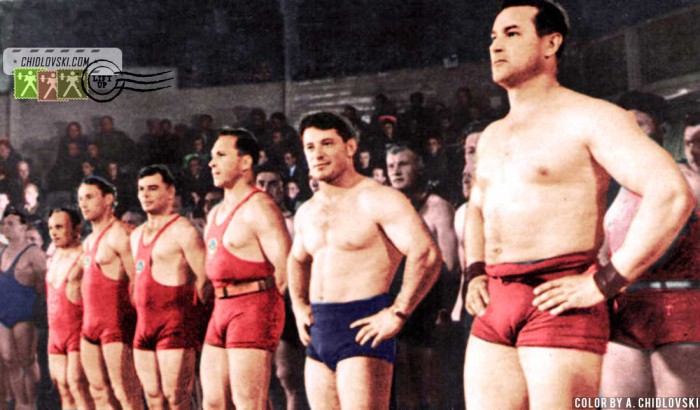 This was the first post-WWII national championship in the USSR.
Most of the champions were World War 2 veterans.
Many of the champions didn't win the titles after the war because they never came back.
June 17, 1946, Riga, Latvia – Introduction of the champions of the 1946 USSR Championships at the State Circus Arena in Riga.
The 1946 USSR Championships was held in Riga and gathered 84 athletes from 16 clubs and 23 cities in the country. And the winners were (left to right):
Mitrofan Kosarev (56kg, Stroitel, Moscow, Russia), Moisey Kasyanik (60kg, Dynamo, Tbilisi, Georgia), George Popov (67.5kg, Army, Moscow, Russia), Nikolay Shatov (75kg, Dynamo, Moscow, Russia), Grigory Novak (82.5kg, Soviet Wings, Moscow, Russia), Yakov Kutsenko (82.5+kg, Lokomotiv, Kiev, Ukraine) – Original article.