Born in 1924: Thinking About the Champions of the War Generation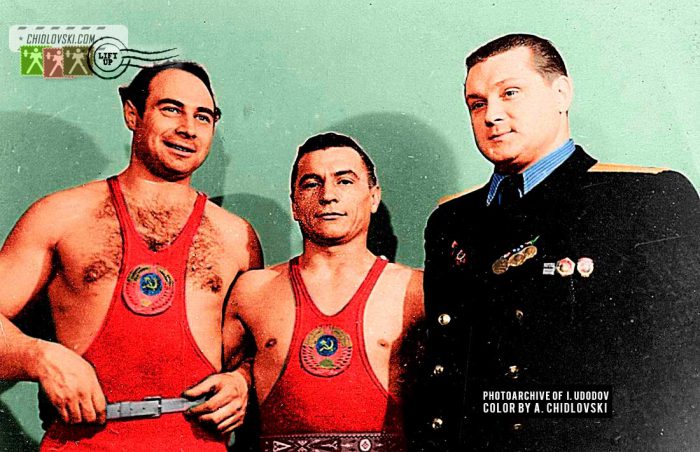 The original for the cover History in Color photo was a black-and-white from the photo archives of a legendary bantamweight of the 1950s Ivan Udodov (left to right): Arkady Vorobyev of Yekaterinburg, Russia, Ivan Udodov of Rostov, Russia and Yevgeny Novikov of Minsk, Belarus.
All three athletes were born in 1924.
All three were outstanding weightlifters of the 1950s.
All three were World War 2 veterans.
All three came from the war and went on to compete in the Olympic weightlifting.
Ivan Udodov (1924-1981) was the first ever Olympic champion in weightlifting for Team CCCP.  He was 17 when he was captured by the Nazis and sent to the Buchenwald concentration camp. He was freed in 1945. His weight was 30 kilos and he wasn't able to walk without a help. The doctors recommended doing weightlifting for his recovery and that's how the first Olympic champion got involved in this sport.
Arkady Vorobyev (1924-2012) was a true legend of the Soviet weightlifting. 2x Olympic champion, 3x Olympian, athlete, coach, scientist, educator, Vorobyev was one of the key figures in the development and application of the world famous Soviet training system. During the World War 2, Vorobyev served as a marine and then as a military diver at a post-war reconstruction of the sea ports in Odessa, Ukraine. Vorobyev's first weightlifting competitions were Navy championships.
Yevgeny Novikov (1924-1973) was a war seaman during the war and later became one of the lead Soviet heavyweights. He won the 1957 European Championships and competed vs. Paul Anderson at the historic 1955 USA vs. USSR weightlifting matches. On the national level, he won 2 gold, 5 silver and 1 bronze medals at the USSR Championships.
They were heroes of their time…
Time never stops.
Three legends on the photo are no longer around. There is no more Soviet Union.
New times bring new heroes, new sports methodologies and new views on previous decades.
Just some memories and reflections on the weightlifting heroes of the past while thinking about that big war 74 years ago on the Victory Day.